Theater
Shadows at Center Stage
Teens Create Musical Based on Vintage Nintendo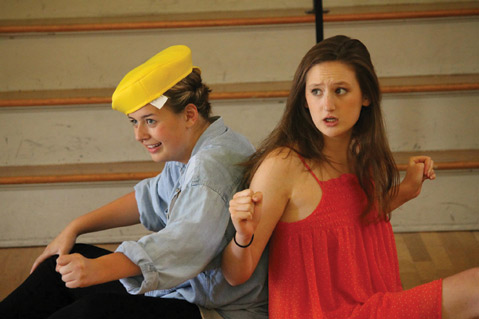 In a world where typical kids are busy craving the next iPhone model and looking to pop stars for inspiration, two Santa Barbara teens are using their fascination with vintage video games to create musical theater. Rising high school seniors Zoe Serbin and Griffin Saxon are the self-proclaimed "old-school nerds" behind Shadows: An Original Musical, which will play at Center Stage Theater this Friday-Saturday, August 17-18. The duo have recruited some of the area's most talented and experienced teen musical theater performers—Cameron Platt, Jordan Lemmond, Katherine Bottoms, and Mary Cusimano are all on board—and are bringing in some newcomers, as well, to the large cast.
Inspired by the storyline of Kevin Bolk's satirical web comic Sucks 2B Weegie and by the videos of the musical theater troupe/YouTube sensation Starkid Productions, Saxon and Serbin have taken some of the memorable minor characters from the original, early-1980s Nintendo games and written a show and songs that "bring them to the front and show their journey from zero to hero," as Serbin explains. Like their role models at Starkid, Serbin and Saxon trade in the mild profanities and irreverent attitudes toward pop culture that make their work both attractive to other teens and not entirely appropriate for their siblings who are younger than 13. The approach takes the idea of fan fiction — original stories based on existing characters — and goes a step further by adding a large dose of musical theater training and talent.
For Saxon and Serbin, this is not their first collaboration. Back in 2010, when they were both in 9th grade, they made their production debut with Star Wars: The Musical at the Unitarian Society. But now that they are more experienced, Saxon says that they "wanted to take the next step," and Serbin agrees, saying that they "wanted to up the production value" of their next show. So, this time, they reserved Center Stage Theater in Paseo Nuevo, home to many of our city's smaller theater companies. "It just sort of seemed like the perfect venue for us," says Serbin.
Saxon and Serbin's musical theater experience together began long before their version of Star Wars. The two first clicked in 5th grade while at the Adderley School for the Performing Arts. Serbin recalls how seeing Saxon and his twin sister, Hope, in Bye Bye Birdie made her want to be onstage, too. Hope Saxon remains an integral part of the making of their shows, as "Hope is the only person who gets to hear our stuff before we show it to people," according to Serbin. She describes Hope as the "catalyst to all of this"; it was Hope who first showed the pair A Very Potter Musical, the Starkid production that inspired them to take on the musical parody form.
Part of the reason that Serbin and Saxon are able to put together a full-scale musical is the support and encouragement they have received from their friends and family. "Basically, we are blessed with the most incredible parents ever who just support us," Serbin affirms. Both the Saxons and the Serbins actively participate in charities in Santa Barbara. "We were founded on that idea of trying to help the community while making a show that's fun for us," says Saxon. All the proceeds from this show, which is already fully funded, will be donated to Transition House.
If you've gotten this far, it's likely that you are impatient to know what this "Nintendo musical" is actually about. Well, as is usually the case in Super Mario Brothers, someone has to save Princess Peach. But this time, it's Luigi's job. This is his chance to finally come out from his brother Mario's shadow. All the minor characters, like Princess Daisy, Link, and Wario, band together to help Luigi in his quest. It's "the same old characters with a different story and a fresh twist," says Serbin. If you're tentative about seeing the show for fear of missing a gaming reference, not to worry, because right before each performance, Professor Griffin Saxon will step out to describe the characters and help you understand the context. And, for the record, this show was put together entirely by students, with no adult supervision whatsoever. That means that everything from the three-piece band, which includes the multi-instrumentalist and composer Saxon, to the choreography, which was done by Santa Barbara High sophomore Malcolm McCarthy, to the set, which was designed and created by the cast, is completely teen-generated. These are true video game geeks who also happen to be trained actors, and with a mostly experienced cast to help them, there's a chance that this very open situation may gel into something memorable. You might even say it's the rise, rather than the revenge, of the "old-school" nerds.
4•1•1
Shadows: An Original Musical will be at Center Stage Theater Friday- Saturday, August 17-18, at 7 p.m. For tickets and information, visit centerstagetheater.org or call 963-0408.