Food & Drink
Noey Turk at Yes Yes Nursery
Growing More than 87 Varieties of Culinary and Medicinal Herbs in Los Olivos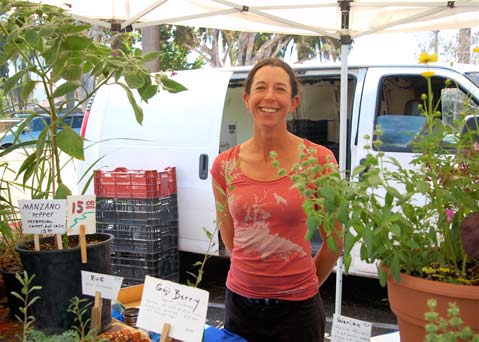 Name: Noey Turk
Farm: Yes Yes Nursery
Location: 2810 Ontiveros Rd., Los Olivos, CA 93460
What they grow: Over 87 varieties of culinary and medicinal herbs including black/purple/white sage, catnip, bergamot, lemon balm, lovage, stevia, echinacea, peppermint, marjoram, oregano, chives, dill, parsley, and their popular edible flower gardens.
Where to buy: Farmers markets including Wednesday in Solvang and Saturday in downtown Santa Barbara. Additionally, Yes Yes Nursery has created several community garden plots to help feed the homeless at Casa Esperanza shelter.
In season now: Rainbow chard, arugula, manzano and habanero peppers, goji berry, lemon and Thai basil, Imperial Star artichokes, and the beautiful hummingbird sage (fragrant with purple flowers — an eye catcher for hummingbirds). Another unique plant is rue, which was believed to ward off evil and the plague in ancient times.
Their story: Noey Turk is a third-generation farmer, sharing a booth alongside her mother and stepfather of "The Garden of ….." farm. After being inspired by her mother and grandmother, Turk decided to create her own greenhouse wonderland in 2006. "I started the nursery with a romantic image — a way to really get to know plants and become one with growing your own food," said Turk. "It's become a huge passion for me."
Working on her grandmother's 24-acre vineyard property in Los Olivos, she currently shares space with her family's farm and Qupé Wine Cellars. Growing the seedlings for much of her family's farm, she also specializes in creating plants and herbs that enhance one's culinary curiosity, including her own. "The plants are really gentle; I like being around them," said Turk. "I enjoy their quite presence, especially in the greenhouse. It's like my own little world."
A small-scale organic farmer herself, she stresses the importance of responsibility to both her family and the community. "I love my customers; I really do," said Turk. "It has really developed into a whole relationship with people and their gardens. I grow food to help others have success in their gardens."