Best Of
Best Of Santa Barbara 2012: Drinking
Coffee House
The French Press
Two locations
Dominating the fun, busy corner of Figueroa and State, and now where WheelHouse Bikes once was over at Anacapa and Cota, the French Press has in the three years since opening usurped this award from a number of old, faithful coffee houses and a certain ubiquitous chain we could mention that dominated Best Of for several years. The coffee here is substantial, the espresso is close to viscous, and the design atop your cup of cappuccino or latte is darn near too pretty to sip apart. Lots of young energy and a very friendly place to catch a legal buzz from a bean.
FINALIST: STARBUCKS
Tea Selection
Vices & Spices
3558 State St., 687-7196
Blue Booth's 37-year-old establishment was winning this category back before coffee and tea were anything more in popular culture than something you got at breakfast to wake up with. Nowadays, most young people can tell you why they prefer lapsang souchong over orange pekoe and probably tell you a political reason to back up their choice. Vices & Spices sells loose-leaf tea from around the world alongside herbs, coffees, and gifts. "There's a wide range of quality teas," said V&S staff person Jessica Presley Grusin, who recommends the coconut souchong and does have at least one justification besides good flavor. "It's flavored with coconut, but it's real coconut, like all of our flavored teas, natural and delicious."
FINALIST: THE COFFEE BEAN & TEA LEAF
Happy Hour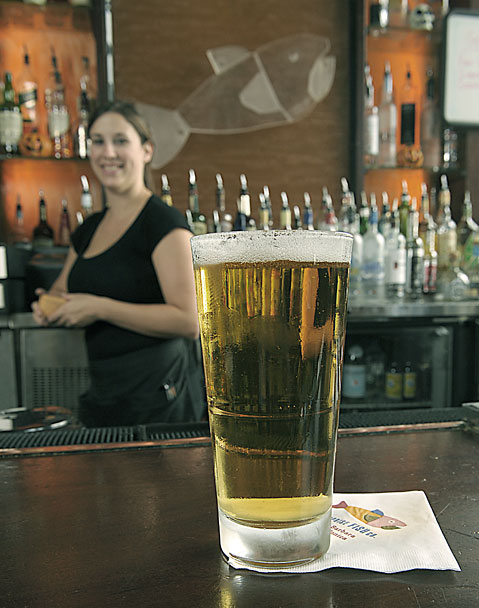 Enterprise Fish Co.
225 State St., 962-3313
"We have stuff planned," said Enterprise senior service manager Maia Stier, mysteriously hinting at the pleasures in store for those who share the celebration this year of the fish restaurant's 35th anniversary. Today, besides the fish — which author Douglas (Hitchhiker's Guide to the Galaxy) Adams praised in print — the place is famed for its long happy hours and ridiculously cheap snacks like the $1 oysters on the half shell Monday-Friday, 4-8 p.m. "It's great food, great service, and a lot of fun," said Stier, who promises even more fun in the year to come.
FINALIST: ARCH ROCK FISH
Beer Selection on Tap
Zodo's Bowling and Beyond
5925 Calle Real, 967-0128
It's the only sport that almost demands alcohol accompaniment from its participants, with the possible exception of league softball. Even then, Z's Tap House and Grill offers a remarkable array for a group of people more interested in strikes and spares than hops and barley with 40 beers on tap from around the world, to put the beyond back into the universe of bowling.
FINALIST: The Brewhouse
S.B. County Brewery
The Brewhouse
229 W. Montecito St., 884-4664
"I'm going to go with the obvious," said Brewhouse brewmaster Pete Johnson. "I think they vote for us because we make good beer. Actually, I was going to say because I'm so good-looking, but that didn't really work. There are a lot more people making good beer than when we started, so I'm very proud of this. I think we win because we're having fun and we care about what we do."
FINALIST: HOLLISTER BREWING COMPANY
Valley Tasting Room
Sunstone
125 N. Refugio Rd., Santa Ynez, 688-9463
"We have such a picturesque environment," said tastingroom associate Ryan Barker. "You just have to pull into the driveway to see that. The winery was inspired by Provence, and it's open to the hillside; it's very beautiful. Plus we have a great staff, and we're not pretentious at all. It's awesome that we won."
FINALIST: KALYRA WINERY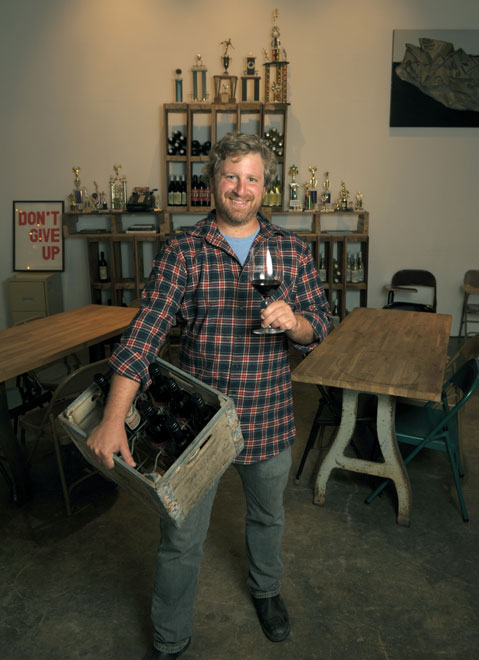 Urban Tasting Room
Municipal Winemakers
22 Anacapa St., 931-6864
"Basically, we're nice to people, and wine tastes okay, too," laughed owner Dave Potter of the tasting rooms that have become number one in a little over two years. "I think people like us because there's a different kind of vibe. We try not to be intimidating, free from all the baggage of wine tasting, all the jargon. We want the experience here to be like an exploration."
FINALIST: KALYRA BY THE SEA
S.B. Wine Tour Co.
Santa Barbara Adventure Company
720 Bond Ave., 884-9283
For a base price of $115, S.B. Adventure Company will take you on an air-conditioned tour of Santa Ynez Valley wineries. Beginning in the morning — the perfect time to quaff — they serve lunch and have you back in town in the early evening. Prices vary according to group purchases and online deals, but it's a great way to see the sights and indulge in responsible wining.
FINALIST: CAPTAIN JACK'S TOURS & EVENTS
S.B. County Winery White Wine
The Brander Vineyard
2401 N. Refugio Rd., 688-2455
"We're kind of a destination for white-wine people," said Brander tasting-room manager Megan Cutter, explaining that the 37-year-old winery's annual production is 80-percent white wine, and of that 77 percent is sauvignon blanc. "We go for a fresher flavor with nice acidity. Crisp and refreshing."
FINALIST: SANTA BARBARA WINERY
S.B. County Winery Red Wine
Santa Barbara Winery
202 Anacapa St., 963-3633
Tasting-room manager Suzanne Fitzgerald admits to being slightly perplexed about which of the red wines they make that is our readers' choice. The pinot noir is great, she said, but so are some of the regional-style wines like the Lagrein and Nebbiola, too. As to their standing in the community, "I think people like us because we've been around so long. People are very familiar with us: good product and good price."
FINALIST: MUNICIPAL WINEMAKERS
Restaurant Wine List
Wine Cask
813 Anacapa St., 966-9463
The online wine list ranges from our backyard to the world. Prices begin about $30 a bottle and end around $4,000 — though admittedly that's for a 1.5-liter bottle of estate California red. There is a nice, almost surprising emphasis on great French wines, and of course, the pickings from our own now-esteemed region are impressive. But the point is there are 15 pages of wines on the menu selected by people who know the business and the pleasure side of the grapey industry better than almost anyone in this town. They've been doing it since Ronald Reagan was in the White House and Santa Ynez was just figuring out how to plant vines. This is likely the best list this side of Anywhere, U.S.A. And it's waiting for you, aging for you if you will, downtown right now.
FINALIST: BOUCHON
Wine Shop
The Winehound
1221 Chapala St., 845-5247
It's not the usual role of this list of the Best Of to report bad news, but here goes. The Winehound is moving. Okay, it's good for Bob Wesley and Co. because they get a La Cumbre Plaza address with lots of parking, and it's good for us because they can expand their impressive holdings of choicely chosen wines from all around the world, but jeez. We kind of got used to small quarters and the inconvenient way we had to park and cross the street or park illegally to go in there. Actually, this annual winner will likely prosper in new surroundings, and we have grape expectations for their future uptown.
FINALIST: VINO DIVINO
Martini
Harry's Plaza Café
3313 State St., 687-2800
In the old days, hippies used to talk about set and setting when outlining the right way to go on psychotropic excursions. Harry's martini should not cause hallucinations, don't get us wrong. But Harry's does provide the perfect environment for imbibing this bracing mixture of strong gin, whispers of vermouth, and a condiment on a toothpick — which we feel strongly ought to be an olive. Harry's red velvet–patterned wallpaper festooned with olden images of our town looking down on comfy booths provides exactly the sense of privileged pleasure-seeking that made Dorothy Parker write naughty tone poems and James Bond get so picky. At Harry's he probably wouldn't mind if it was made of gin, and stirred not shaken.
FINALIST: THE MARQUEE
Margarita
Carlitos Café y Cantina
1324 State St., 962-7117
Since 1978, this way station on the road from parked car to cultural event has dazzled our readers with its signature margaritas. Though they are classically secretive about the ingredients, Carlitos has always served a salty-sweet lime version of the Mexican drink usually on the rocks in thick Mexican glasses that have become for many people a central ritual of celebrating Fiesta, too.
FINALIST: CIELITO
Stiffest Drinks
Joe's Café
536 State St., 966-4638
It's seen a big move, a change of ownership, and the passing of at least three generations of fun seekers, meat-eaters, and usually responsible imbibers. Of course, at Joe's, you don't need to think so hard about pacing yourself, because at Joe's you could probably just drink that one. Never skimpy or froufrou (unless that's what you ask for), Joe's has been the fuel that got this party city started and will probably last until your grandkids are out on the town someday, too.
FINALIST: HARRY'S PLAZA CAFÉ
Neighborhood Bar
The Neighborhood Bar & Grill
235 W. Montecito St., 963-7600
Does it seem a little like the Department of Redundancy Department to make The Neighborhood be the best neighborhood bar? Actually, not at all. The Neighborhood's claim to fame is not only a gigantic space in an out-of-the-way corner of the city with great tap beers, a full bar, and a great pub grub kitchen, but also an outdoor patio where you can play beer pong. This is sheer genius in the department of win-win situations: You play a game that enables them to sell a lot of stuff that makes you want to play the game. Ladies and gentlemen, the winner.
FINALIST: THE BREWHOUSE