Food & Drink
15 Minutes with The Burger Bus's Michael Gardner
Our Food Editor Gets to know the man behind S.B.'s favorite food truck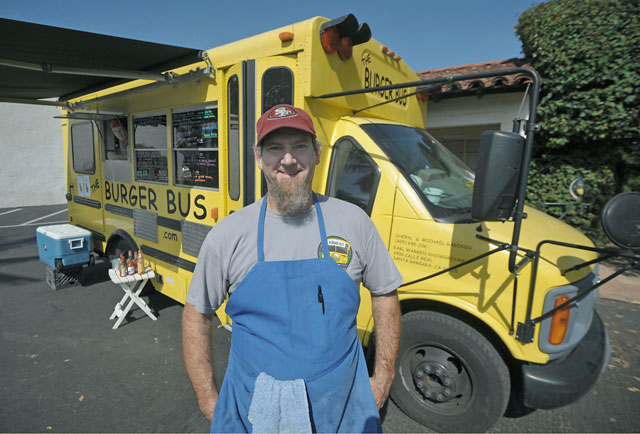 I spent my quarter-hour with Michael and Cheryl Gardner of the Burger Bus, fresh off their win in The S.B. Independent's Best Of Readers' Poll. ("Can you please put 'Thank you, Santa Barbara' in there?" they asked.) They invited me to their home; I was handed 6-month-old daughter, Poppy; then a gigantic Jack & ginger. Settled in, Michael and I got started.
If your decision to get into this line of work could be traced to one food memory, what is it? My dad would make coleslaw — his mom's "famous recipe." It was terrible. As a kid, I thought, if this is famous, I can do better. So I started experimenting.
You have guests at home you want to impress. What's your go-to meal? Pizza night. Sounds funny, but you haven't had my pizza! From crust to finishing salt, I break down tomatoes to make sauce, use fresh cheese … I have a technique using the regular oven. Someday I want to build a wood-burning oven, by hand. That's one of the dreams; a pizza joint would be fun.
If someone could eat at the Bus only once, what should they order? The Gonzo. It's off-menu, the burger of the day. It's always different. The BBQ burger started that way; so did the pesto. I've made sloppy joes, tacos, tomato-bacon salsa. I get to play anytime someone orders it.
What's the best dining experience in S.B., other than the Burger Bus, of course? I'm really happy with Arlington Tavern. The menu's not vast, but it covers lots of ground. The folks running it are really nice. I just wish they'd get a full bar. But they do have Hoppy Poppy on tap.
What's the most outrageous thing that's ever gone down on the Bus? We're a lunch spot; nothing that crazy happens at lunch.
Okay. Best Burger Bus lore? We catered Drew Barrymore's wedding. I came home, and Cheryl's like, "So??" And I'm like, "No big deal; Steven Spielberg loves our onion rings." I actually ran into [Barrymore] later at C'est Cheese; everyone was trying not to stare, but I was like, "Hey! I'm the Burger Bus, from your wedding!" She gave me a big hug, and I asked how they found us. Apparently, someone told them about us, so they drove up, parked around the corner, and had someone else get a bag of food and bring it to the car so they could try it. Actually, someone else booked [the wedding] and asked us to customize a sign for the bride and groom, but it wasn't their names, it was "Noodle and Butter." Before the wedding, we got calls from US Weekly, but we didn't know for sure. It was a nice pad … But she left without trying the fried pickles. I'm like, "You're pregnant! How can you leave without trying the pickle chips?"
In a fit of anger you mow down a parking-enforcement officer and are on death row. Last meal? Menlo Park. Su Hong's general's chicken, pot stickers, BBQ pork chow mein, bottomless Jack & gingers.
One ingredient you can't live without? Hot sauce.
Better food city: New York or New Orleans? Austin. I love barbecue.
(I must revise that question.)
Fill in the blank: People might be surprised to see me eating ________. People would be surprised to know I don't eat seafood … I'm looking into hypnotherapy for that, actually.
And finally, bacon: Awesome or overrated? As long as it's cooked right, awesome. Don't fuck up my bacon.
4•1•1
To find the Burger Bus, check their website: theburgerbus.com.