Dance
An American Tango at the Lobero Theatre
State Street Ballet Goes Ballroom on Saturday, October 27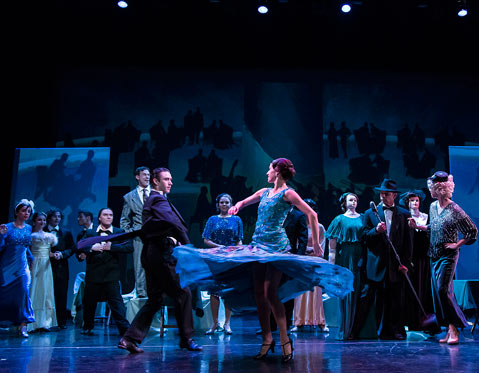 "The end is jussa beginnin' a somethin' new, an' vaysa vera, capiche?" So claimed the gum-smacking narrator of An American Tango, the latest show from State Street Ballet (SSB). Written by Guy Veloz and choreographed by William Soleau, the show told the story of one of the great, forgotten ballroom couples of the early 20th century: Veloz and Yolanda. No, the shared name's not a coincidence; the writer is their son, an L.A.-based actor who was in the audience on Saturday night. An American Tango is a classic rags-to-riches story: Two kids from poor, New York immigrant families rise through the ranks of ballroom dance to become stars.
One year ago, SSB premiered Starry Night, Soleau's ballet based on the life of Vincent van Gogh, and featuring actor Michael Daniels as narrator and guide. The narrated story ballet seems to be a new theme for the company. For An American Tango it was Joseph Fuqua as Auggie, the wisecracking raconteur who kept things moving from nightclub to alleyway to dance stage. A simple set consisting of two folded panels allowed for malleable scenic arrangements and a series of projected historic photographs helped establish the era, as did the tunes of Fats Waller, Duke Ellington, and George Gershwin.
The great coup of this production was the dancing itself. From the Castle Walk to the Charleston to the tango of the show's title, Soleau had these classically trained ballet dancers moving like they grew up dancing in the supper clubs of the 1930s and '40s. Lead dancers Leila Drake and Jack Stewart were stunning as Yolanda and Frankie; Stewart was a commanding presence whose descent into drunken misery convinces, while Drake positively sizzled in her glittering gowns, only to crumple in grief when her partner left her. Both dancers took some of the dramatic risks required in this kind of show dancing, and they pulled them off. At one point, Stewart snatched Drake out of a flying leap at what must have been the last possible moment, and the audience gasped in response.
Yet some of the ballet's best scenes were much more understated: three men in Zoot suits tapping their toes and flipping coins outside a club, and the cinematic slow-motion fight scenes that, despite their comic aspects, set a somber tone. Ultimately, An American Tango payed tribute not only to Veloz and Yolanda, but also to the transformative power of dance.