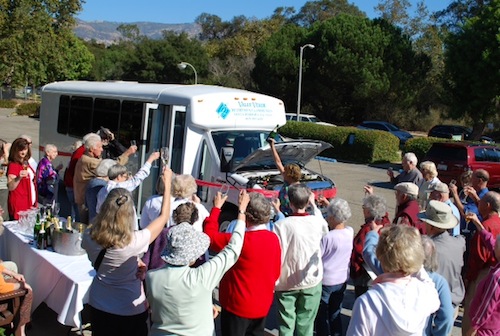 Valle Verde residents and staff were on hand to celebrate with a champagne toast. The addition of the new CNG bus expands Valle Verde's Green Footprint program that improves our local environment through eco-friendly means, such as solar production, increased recycling, native landscaping, reducing water use, and much more.
"Today marks another key green accomplishment for our campus. We have been working hard to provide our residents with a more environmentally conscience means of transportation. Now they can go shopping, to doctor's appointments, or out to lunch with friends knowing that they are polluting less and saving money," said Suzie Swenson, director of Life Enrichment at Valle Verde Retirement Community.
The new CNG passenger bus will run entirely on natural gas, which on average is 30% to 50% less expensive then gasoline. Natural gas is one of the cleanest fuels available today and when compared to gasoline produces 85% percent less carbon monoxide and 50% less nitrogen oxide. In addition to fuel savings and emission reductions, CNG vehicles have a longer engine life because of the clean burning attributes of natural gas.
Over the last eight years, Valle Verde Retirement Community has created and expanded their campus-wide green initiative and continues to reduce their dependence on electricity, decrease waste, improve air quality, compost green waste, use reclaimed water, and buy local produce.
Valle Verde's Green Footprint program includes:
72,000 watt solar electric generation system
Local produce – up to 85% of produce consumed on campus is purchased from local farms
Electronic records in the medical center
Solar residential water heaters
Reclaimed water used for all irrigation
Climate sensitive irrigation controllers for minimal water usage
Drought tolerant, native plants
Campus-wide recycling & waste reduction program
Employee & senior resident alternative transportation programs
Built Green practices on campus remodels
Valle Verde has received the following awards for their green program:
CalRecycle Waste Reduction Award 2007, 2008, 2009, 2010, & 2011
International Council on Active Aging 2010 Green Award
City of Santa Barbara Solar Energy System Recognition Award & Certificate 2007, 2009, & 2011
AAHSA Leading-Edge Care and Services Award 2008
Central Coast Magazine Green Award Nominee 2008
Santa Barbara Green Award 2007
Valle Verde Retirement Community has been located at 900 Calle de los Amigos in Santa Barbara, CA since 1966. Valle Verde is a nonprofit retirement community committed to helping people live full, happy, and long lives. Valle Verde is owned and managed by American Baptist Homes of the West.