Sports
The Fighting Irishman
Brian Kelly's Santa Barbara-Based Family Cheers as the Football Coach Takes Notre Dame to New Heights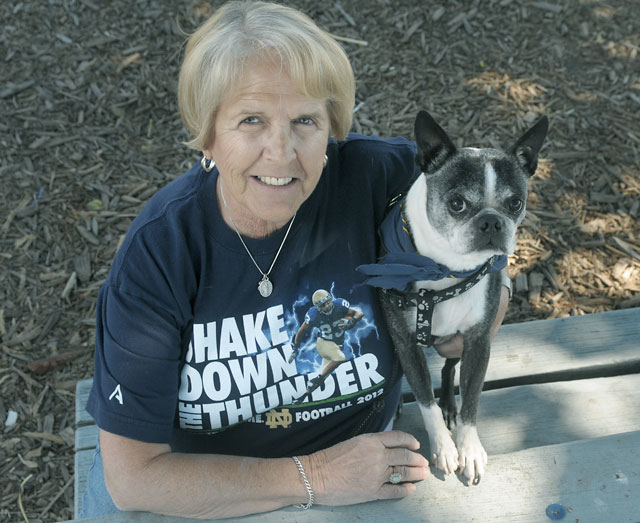 The apartment off La Cumbre Road sounded like a haunted house last Saturday evening. "The neighbors heard us screaming in here," Thelma Maitland said. Thelma, her daughter, granddaughter, and some friends could be excused for the commotion. They were watching her son, Brian Kelly, achieve the most momentous victory of his career as Notre Dame's football coach — just as mom predicted.
"We're gonna win," Maitland declared before the Fighting Irish, 11½-point underdogs, kicked off against the Oklahoma Sooners. "I'll take a two-point win." Well, she was wrong about that. Notre Dame scored 20 points in the final quarter and left a stadium full of stunned Sooner fans in the wake of the Irish's 30-13 triumph.
Big wins over the likes of Oklahoma are sprinkled throughout the history of Notre Dame football, but they had receded into the distant past when Kelly arrived as the 15th successor to Knute Rockne in 2010. Several years after Lou Holtz's 1988 team won the school's eighth national championship, the torch was passed to Bob Davie, Tyrone Willingham, and Charlie Weis — three coaches who produced flashes of success that faded into mediocrity. Kelly got started with back-to-back 8-5 seasons, raising doubts whether he could do any better.
"I know who he is," Maitland said. "Things never came easy for him. He works so hard. He's hands-on. He's persistent. He instills confidence and belief into kids. He's going to do a good job." After the victory over Oklahoma vaulted the Irish (8-0) to No. 4 in the national rankings, she said, "I'm so happy for Brian. He puts in so much time and commitment. Being a coach at Notre Dame is not like it is at any other college."
Kelly might find time once a year to drop in on his mother, a longtime resident of Santa Barbara, as long as the visit dovetails into a recruiting trip. She made it back to South Bend, Indiana, for Notre Dame's home game against BYU, a 17-14 comeback win. Otherwise, Maitland watches Brian in a one-way Skype every Saturday when Notre Dame has a TV game.
The family lived in Chelsea, Massachusetts, while Brian was growing up. "He played football, basketball, hockey, all the sports," his mother said. His younger sister, Kimberly Kelly, remembers Brian as "a Rudy-type linebacker" at Assumption College in Worcester. "He was the smallest player, but he always had a winning mentality."
Brian majored in political science, and he landed a position as a legislative aide to Gary Hart, the Colorado senator who twice ran for president. But Kelly's enthusiasm for politics waned, even before Hart was caught in an extramarital affair — the John Edwards of the '80s. "Brian said, 'Mom, I want to be a football coach,' but he didn't want to disappoint his father," said Maitland, whose former husband, Paul Kelly, was an alderman in Chelsea. "I told him, 'Brian, your father has his own life. You have yours.'"
He got started as a linebackers coach at Assumption and also coached softball. He became head football coach at Division II Grand Valley State (Michigan), followed by winning tenures at Western Michigan and Cincinnati. Notre Dame came calling when the Bearcats put together a perfect (12-0) regular season in 2009.
Sarah Kelly, Kimberly's daughter, is one of Brian's biggest fans. "When I took an entrance exam for Bishop [Diego High School], I had to write an essay about someone who inspired me," Sarah said. "I wrote about my uncle, how he was a women's softball coach, and he kept working, and ended up in his dream job." Sarah is a sophomore at Bishop Diego.
Kimberly Kelly said her brother has "brought the family together in a shared experience" as they ride the ups and downs of Notre Dame football. Winning week after week — often by the slimmest of margins — only adds to the tension. Thelma Maitland, a retired county mental health worker, finds serenity by taking walks at Shoreline Park ("the pahk," as she says in her New England accent), along with Patrick, her Boston terrier.
Brian Kelly's Santa Barbara family has November 24 circled on the calendar, the day they'll be in Los Angeles for the Notre Dame-USC game. There are three potential spoilers before then. This Saturday, it's Pittsburgh. Screaming is permitted.
PREP FOOTBALL: Bishop Diego's Cardinals (9-0) are the top-ranked team in the CIF Northwest Division and the Tri-Valley League champion after dethroning Nordhoff, 14-7, last Saturday night at La Playa Stadium. … The Channel League title will be decided Friday night, November 2, when the Santa Barbara Dons visit Dos Pueblos. The Chargers (3-0 in the league) will be outright champs if they win. The Dons (2-1) have an opportunity to claim a share of the crown. Both teams are 7-2 overall.