News
Little Opposition to Big Measure
Pro-Development Crowd Relatively Quiet in Goleta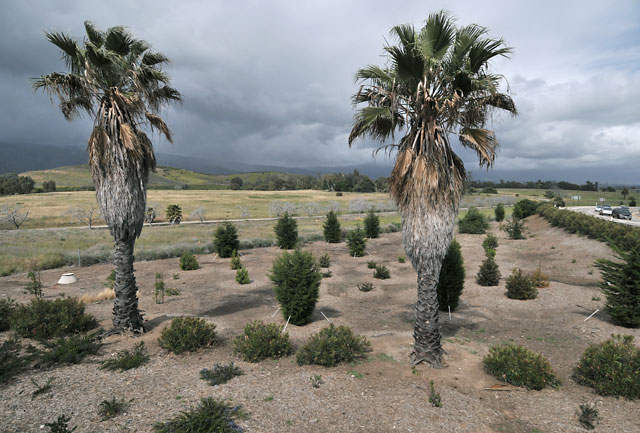 When City of Goleta residents cast ballots on Tuesday, they'll be voting on one of the most powerful slow-growth referendums in state history: Measure G, which, if passed, will require developers interested in building upon any of the city's six largest agriculturally zoned parcels to wade through the pricey planning process; get all of the required board, commission, and council votes; and then take the idea back to the ballot box for final approval by the people. But despite the likelihood that the initiative's approval would almost certainly stop those six properties from being developed for the next 20 years ​— ​which is the measure's time limit ​— ​there has been almost no organized and funded opposition, which comes as a shock to many involved.
"We had braced ourselves for that negative series of actions by chamber-of-commerce types," said the measure's coauthor Robert Wignot, who expected that the same coalition of developers, pro-business interests, and affordable-housing advocates might come together to fund a counter campaign. "We were a little surprised that we didn't see the severe opposition that we might."
Those opposed to the measure are also surprised, including former councilmember and Santa Barbara Airbus owner Eric Onnen, who's worried that the public understanding of the measure is very limited due to the lack of a counterpoint. "Perhaps this has little or no effect even if it does pass," said Onnen as one possible reason, explaining that it's very hard to convert ag land anyway. "The General Plan and the community position pretty much makes it very, very difficult, at best unlikely," said Onnen. "There's no movement toward converting these properties anyway."
Yet Onnen has done his part, writing commentary against the idea because, now that the owners of Bishop Ranch are pledging not to develop that property anytime soon, he calls Measure G a "solution looking for a problem." He fears that the broad-based measure may cause more development pressure than it relieves and that it doesn't fully consider the potential financial impacts. "The history of our city has shown that when you are so focused on a narrow goal repetitively, the consequences of that have been very costly and aren't changing the outcomes," said Onnen. "[The Measure G proponents'] focal point is relatively narrow, and that's not in the best interest of the whole picture."
The Goleta Valley Chamber of Commerce is opposed to Measure G, as well, but director Kristen Miller is not as surprised about the lack of opposition, because the property owners involved do not have the deep pockets or political experience to put up a coordinated fight. "You have a better show of getting things passed if you are very strategic about who's on the line and gets hurt the most," said Miller, who organized a "fair and balanced" forum showing both sides of the debate last week.
Like Onnen, Miller and the chamber fear the repercussions. "The possibility of unintended consequences doesn't seem worth avoiding a threat that no longer exists," she explained. "The chamber feels strongly that it undermines the public process that we have worked so hard to gain through the General Plan and through cityhood. … A binary yes/no answer to a complicated decision like land use and community planning, that's not the community process we worked so hard for."
Despite the change at Bishop Ranch, Wignot believes Measure G is still necessary to protect Goleta's quality of life, and he points to Ventura County, where community-supported development has continued with similar policies in place. Wignot is happy to say that all the people he's spoken to who vote by mail have confirmed that they voted for the measure, and he remains "cautiously optimistic" for citywide approval on Tuesday.