Sports
Runners' High
Fourth Annual S.B. International Marathon Takes Place November 10.
As it turned out, last Sunday in New York City was not the time and place to stage a marathon run. It was too close to the destruction, suffering, and death wrought by Superstorm Sandy, contrary to the idea that 40,000 runners pounding through the boroughs was just what the city needed to restore the exuberance that Frank Sinatra vocalized: "I want to wake up in that city that doesn't sleep, and find I'm king of the hill, top of the heap."
Like the Yankees, the New York City Marathon — canceled for the first time since it started in 1970 — will have to make a comeback next year. Meanwhile, a fresh rendition of the classic 26.2-mile race is making its fourth annual appearance in our fair city. The Select Staffing Santa Barbara International Marathon (SBIM) and Half Marathon are set to go off Saturday morning, November 10.
Because it is the Veterans Day weekend, the runners will be surrounded by military pomp and patriotism. Bagpipes, bugles, and color guards will accompany the start of each race (the half marathon at 7:15am at the Page Youth Center; the full marathon at 7:30am at Dos Pueblos High), while T-34 fighter planes do a flyover. Lt. John Blankenship will lead the marathoners at the wheel of a World War II Army jeep from the Pierre Claeyssens Veterans Museum. The last mile of the course, from Shoreline Park to SBCC's La Playa Stadium, will be festooned with flags and military vehicles. Veterans are invited to join the spectators along that mile.
The course of the full marathon unites the cities of Goleta and Santa Barbara. The runners will loop around El Encanto Heights, skirt the foothills along Cathedral Oaks Road, and wind their way through neighborhoods connected by bicycle trails. The toughest section is the steep incline of Cliff Drive above the intersection with Las Positas Road (mile 24 for the marathoners). After the runners reach the top, the rest of the course goes downhill, opening up to a spectacular waterfront vista.
Some 5,000 runners are expected, about three-quarters of them opting to run the half marathon. The first of those should reach the finish shortly before 8:30 a.m. The races are timed so that the leading marathoners will catch up to the back-of-the-pack half marathoners at about the 20-mile mark on Modoc Road. Look for the marathon winner to finish in the range of 9:45-10:00.
Rusty and June Snow, the codirectors of the race, have offered discounted entries to runners who were registered for the New York City Marathon. "We'll have about 100 runners from New York," Rusty Snow said. He sympathized with the organizers of the ill-fated race that was to start on devastated Staten Island. "They were damned if they did and damned if they didn't," he said. "It was good for the city and bad for the city."
Moninda Marube, a Kenyan who resides in Maine, is the two-time defending champion of the SBIM. He will try to make it three wins in a row. Last year, Michael Wardian of Virginia pushed Marube to a record time of 2 hours, 22 minutes, and 38 seconds. The effort left Marube slumped in exhaustion while he cooled his feet on ice bags. Wardian, who finished second by just eight seconds, has been sidelined by a back injury, but another Kenyan, John Njorge, intends to give Marube a run for his money. "If all goes well, we can run between 2:17-2:20," Njorge said.
Njorge also moved to Maine to train over the summer, but he plans to return to his native Kenya during the winter months. He explained the dominance of distance runners from his country: "It is the only way out to make your life better. That's why we train very hard to become professional athletes. I didn't have a good education, but I use my brain more than anything else when I race."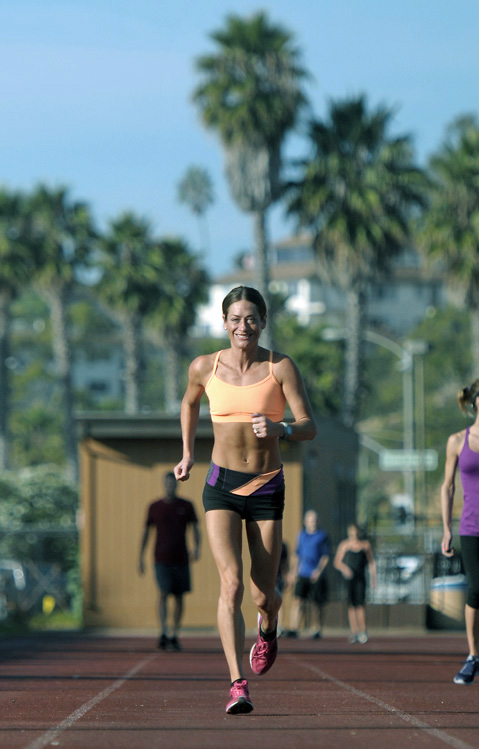 In the women's marathon, the record set in the inaugural 2009 race by Santa Barbara's Andrea McLarty (2:52:23) is in jeopardy. A runner who has a shot at it is Joy Moats, a recovering alcoholic who received training guidance from McLarty after she took up running just two and a half years ago.
Moats's story is testimony to the healing powers of vigorous exercise. "It was a very, very dark time," Moats (then Joy Zemella) said of her long bout with alcoholism. "Life was not good. You can look like you're holding it together, but you're not." She got sober through a 12-step program, and with the encouragement of her future husband, Ian Moats, she started to take thousands of running steps. She finished her first marathon in Los Angeles in March 2011, and she placed third in the SBIM a year ago in 3:08:06.
"I'd never experienced anything like it in my life," said Moats, 37, a former San Marcos High cheerleader. "The feeling of doing something you don't think you can do; pushing yourself when you want to quit; the other runners, the fans, everything. I didn't realize what a great running community we have. I'm so grateful for my life."
McLarty, who followed up her 2009 victory by winning the half marathon in 2010, is no longer pushing herself to extremes. "Some of my crazy edge is gone," she said. "I've had a lot of ups and downs. I really appreciate the ups. That 2:52 was a fantastic day for me." She would gladly see Moats take her record away. "I think Saturday is going to be her day," McLarty said. "She's very talented and committed. She knows how to dig deep and suffer. She's scrappy."
The women's half marathon will be very competitive. The entries include Alvina Begay, fifth in the 2012 U.S.A. Half Marathon Championship; Cynthia Korir of Kenya; Lauren Kleppin, a collegiate All-American from Colorado; and former Chico State runner Tori Tyler, a local resident. Begay represented the Navajo nation at the Olympic Trials, both in the marathon and the 10,000 meters on the track. She was raised on a reservation in Arizona. "I'd like to run a solid time [Saturday]," said Begay, who trains in Flagstaff. "I've been doing a lot of miles to get ready for a marathon in December."
At the heart of the marathon are the pluggers. They can be seen jogging on roadsides all over the country, with no illusions of hanging with a Kenyan — people like Ron Eldridge, a 65-year-old Vietnam veteran from Bend, Oregon. He picks out one marathon a year, and this time it's Santa Barbara. "The marathon, to me, is a reward for my exercise, and a chance to see a different part of the country," Eldridge said. "I never win anything."
Twenty years ago, Eldridge said, "I was living a life of leisure, smoking, and eating too much. I wanted to go on a backpacking trip, and I could barely last 100 yards." When he began running in the woods, his Vietnam experience came back to him. "I never touch anything or pick up anything," he said. "In 1971, I was blown 15 feet by a booby trap — they call them IEDs now. Army doctors in Vietnam and Japan saved my life."
Other veterans running Saturday include participants in the Wounded Warrior Project, which directs injured service members into fulfilling programs and activities. "Veterans have not always been viewed as anybody special," Eldridge said. "In the last 10-12 years, there's been a complete turnaround. It sends a shiver up your back to see somebody out there with an artificial limb." There also will be a team of active service members, the Army National Guard Elite Runners.
FRIDAY-NIGHT LIGHTS: SBCC's football season finale will feature a salute to veterans on Friday night, November 9, at La Playa Stadium. Veterans will be admitted free to the 7 p.m. game between the Vaqueros and West L.A. Wildcats. SBCC (4-5), coming off a 36-18 victory over Glendale College, will try to break even on the season. … The Santa Barbara High Dons and Dos Pueblos Chargers played a championship-quality game last week — won by the Dons, 24-17 — and both will be playing at home Friday night in the opening round of the CIF-SS Ford Championships. The Cathedral Phantoms of L.A. will take on the Dons at Peabody Stadium, and Culver City's Centaurs will visit DP's Scott O'Leary Stadium. They are in the Western Division bracket….Bishop Diego's Cardinals will have to be road warriors after going 10-0 and earning No. 1 ranking in the Northwestern Division. They will not be able to host any playoff games because of a CIF sanction. The Cardinals will travel to South Torrance on Friday.