Courts & Crime
Hendry's Beach Murder Trial Begins
Adrian Robles Stands Accused of Stabbing and Killing Robert Simpson in April 2010
Adrian Robles stabbed Robert Simpson in the neck — "one quick blow, one deadly strike with a small knife" that killed Simpson — because Robles wouldn't let his gang be disrespected, a prosecutor told jurors during opening statements last Wednesday in Robles's murder trial.
But his defense attorney, Steve Balash, said it wasn't his client who stabbed the victim, but Rudy Gallegos, Robles's acquaintance who got into a fight with Simpson prior to the stabbing at Hendry's Beach in April 2010. If convicted, Robles faces life in prison.
The undisputed facts have narrowed the case down to two suspects — Robles and Gallegos. "This is an identification case," Chief Deputy District Attorney Hilary Dozer told the jury Wednesday.
Indeed, there was much confusion in the aftermath of the stabbing, as people rushed to render aid to Simpson in the grassy park behind the Boathouse restaurant at Hendry's Beach. Gallegos was originally arrested for the murder, but was released the same day authorities arrested and charged Robles. Both men have ties to the Westside gang, have tattoos on their heads, and have similar builds.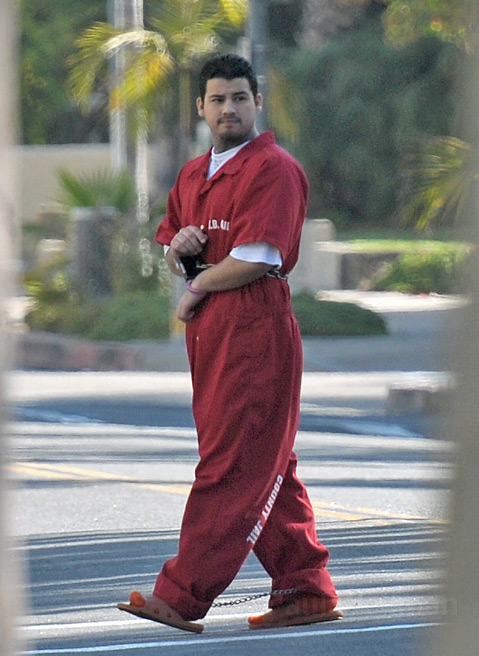 In the first three days of testimony last week, witnesses expressed difficulty in identifying who actually committed the stabbing. Several suggested that the man who fought Simpson just minutes before his death was not the same person who stabbed him.
According to testimony, two Hispanic men were at the park with two women, and eventually a war of words escalated into a physical altercation. This was between Gallegos and Simpson, according to Dozer. Simpson won that fight, said one witness. He was in a dominant position but disengaged. "He could've kept going but stopped," said witness Stuart Moulton.
Minutes later as Simpson walked away, a man came up from behind and it looked to Moulton like the man punched Simpson. It was a quick shot, Moulton said, and not made by the same person who had been in the fight.
Other witnesses who have taken the stand participated in photo lineups shortly after the incident, but weren't able to definitively say Robles was the stabber. One pointed out Robles in a lineup, noting the tattoos on his head and saying he "could be" the attacker.
Robles, who will turn 23 in a couple of weeks, looks very different now than he did the day of his arrest. Sitting in a charcoal suit in court, he's grown a beard and is wearing his hair long in a ponytail, hiding the tattoos on his head.
The one person who knows for sure who stabbed Simpson and will be testifying is Rudy Gallegos. Despite the fact Gallegos is putting himself in physical danger for testifying against a fellow gang member or associate, he is expected to take the stand Wednesday to give his side of the story. Dozer admitted to the jury that Gallegos initially lied to investigators about what happened that evening.
But Dozer expects Gallegos will testify that he looked down on Robles for "not stepping up and taking care of his own business," when Simpson and his friends allegedly insulted the women Gallegos and Robles were with. After the fight Gallegos backed off, Dozer said, but Robles decided that such an event would not go unnoticed by his fellow gang members, and neither would his inaction, so Robles attacked Simpson with a knife. Gallegos, Dozer said, "will testify Adrian Robles stabbed Robert Simpson, and he will say he saw it happen."
The defense paints a different picture. "At the end of this case you will know who committed this homicide," Balash told the jury. "Robert Simpson was stabbed by a Westside gang member," he said. "Which one? That's going to test your ability as a juror." He said Gallegos was the one acting belligerent that day, while Robles was the quieter, calm guy. He also said Gallegos won't tell the truth. "The evidence will prove Rudy Gallegos can and will lie when necessary," Balash said.