Outdoors
Beyond Island of the Blue Dolphins
New Archeological Discoveries Tell More About the Lone Woman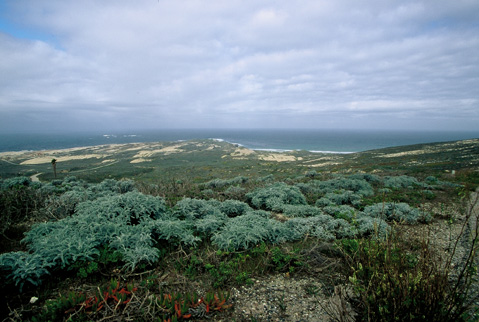 Last February, I had the opportunity to spend one full day on San Nicolas Island. It was the only Channel Island I hadn't yet touched down on.
The 20-minute flight out of Point Mugu Naval Base was interesting. I sat in the back of the plane and watched the 30-seater repeatedly bow inward against powerful northwest winds; a turbulent white-capped ocean stretched as far as I could see. Once we landed, visibility fluctuated from poor to nonexistent as dense fog and rain persisted throughout the day.
Although the entire time was spent talking about feral cat removal, saving sensitive seabird habitat, and cute little island foxes, I couldn't help but wonder where and how the Lone Woman of San Nicolas Island lived and survived out here for 18 years, from 1835 to 1853.
The Lone Woman was made famous by Scott O'Dell's 1960 American children's novel, Island of the Blue Dolphins. We now know her primary place of residence — a sandstone cave recently discovered by U.S. Navy archaeologist Steve Schwartz. After searching for 20 years, poring over an old map, Schwartz found the weathered grotto, filled to the brim with wind-driven sand on the southwest end of the islet six months ago. The cave is 75 feet long, but more digging is still needed.
"A lot of the little bits and pieces [of the story] haven't been told yet," said Schwartz, referring to potential clues hidden inside the cave. "This will give us a nice little glimpse into what that period looked like."
It will be some time before any answers are sifted from those gritty sands, the Lone Woman's way of life a mystery up to this point. What we do know is that she was the last of the Nicoleño tribe on the remote isle, located 60 miles off the south coast of Ventura County. After repeated assaults by sea otter hunters from Russia and the Aleutian and Kodiak islands, her people had dwindled to no more than 20 individuals. A ship from the mainland was commissioned to remove the remaining Nicoleños, offering safe passage to San Pedro.
Legend says she was on that boat in 1835, then jumped off and swam back to San Nicolas Island once she realized her child wasn't onboard. Back on the island, she found wild dogs had devoured her child. However, Schwartz said no one knows for sure why she was left behind. So, for the next 18 years, she lived alone, possibly befriending those wild dogs that herded seals and sea lions for her on deserted beaches.
According to Schwartz, the woman lived at various sites around the entire island, depending on available food sources at the time in makeshift huts constructed with whale ribs and seal skins. "Actually they were more like windbreaks," said Schwartz. "The cave was her main living area. Even without a fire it was warm inside."
Another recently notable find made by another team of archaeologists revealed a treasure trove of artifacts from two different cultures. A battered redwood box sealed with asphaltum was discovered in another region of San Nicolas. Archaeologists found an elongated stream of old soil and followed it, eventually leading to the box. "There's an old adage amongst archaeologists," continued Schwartz. "Archaeologists need old dirt to find old stuff."
Because the Lone Woman lived on different parts of the island, it made sense for her to leave certain belongings in strategic places. She had a propensity for stashing stuff so that she didn't have to carry everything back and forth. The redwood box contained tools from the Nicoleños, as well as from Aleuts and Kodiaks. Also inside were dolphin teeth, abalone shells, glass, knives, a smoking pipe, bald eagle bones, and flutes. "This was kind of her toolbox on that part of the island," said Schwartz. "This is an amazing find."
In 1853, explorer and sea otter hunter George Nidever set sail for San Nicolas in hopes of locating the Lone Woman. According to Schwartz, it was Carl Dittman, one of Nidever's men, who first caught a glimpse of her at one of her huts on the east end of the island.
On September 1, 1853, Nidever brought her to his home in Santa Barbara, now known to be somewhere under Highway 101. After seven weeks, she developed dysentery and died. She was buried at the Santa Barbara Mission, site unknown. Known in Hollywood as Karana, and just before death baptized as Juana Maria, the Lone Woman of San Nicolas Island continues to intrigue, her story still captivating beyond Island of the Blue Dolphins.