Arts & Entertainment
Up Close with Trevor Borden
Santa Barbara Singer/Songwriter Unveils Giants EP
If you've strolled the Santa Barbara Farmers Market or stopped in for a cup of joe at Handlebar Coffee Roasters, you probably know Trevor Borden. The young singer/songwriter cut his chops busking the Tuesday and Saturday markets in between pulling espresso shots at Canon Perdido's hottest coffee spot. Physically, Borden looks like he could be the next S.B. poster boy: blond locks, sun-kissed skin, and a rugged style that calls to mind a surfer's effortless cool. But don't chalk Borden up as S.B.'s next Jack Johnson just yet.
The 23-year-old Westmont grad spent the majority of his life growing up in the bush of Kenya. The son of two nonprofit workers, Borden found music when he left Africa for Portugal to attend high school. "That's when I first got a guitar and started a little punk rock band," he recalled. "Coming from the bush, it was a totally different thing." Like most kids his age, Borden grew up on a diet of Paul Simon and Bruce Springsteen and still finds himself drawn to and inspired by greats like Bob Dylan and Jackson Browne, as well as contemporary acts like Gregory Alan Isakov. And it's with those touchstones in mind that he's taken to finding his own voice, first as the frontman for S.B. act The Way Much and now as a fledgling solo artist.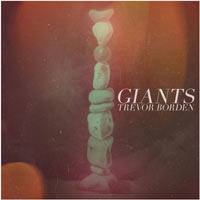 On Borden's debut EP, Giants, he forges out on his own in a big way, delivering songs that are triumphant, hopeful, and unabashedly earnest. Recorded over the course of the last year with friend and producer Trevor Welch, Giants draws on images and experiences from Borden's college and post-college life and speaks to big universal truths through intimate, personalized accounts. "[The song] 'Giants' I wrote at the end of my senior year at Westmont," Borden explained. "Over Thanksgiving break, I flew to my grandfather's house in Florida to drive this car back to California, and on the way back, I was looking for images that struck me. The song is basically a list of things that happened and that I saw on that road trip."
Those snapshots make for one of the EP's most earnest moments and a solid indicator of what drives Borden as a musician. "For me as a listener, it's about whether or not I believe the person who's singing," said Borden. "It's about honesty and transparency and actually sharing something that's true to them. That's what draws me to music and songwriting, that honesty."
For more on Trevor Borden and Giants, visit trevorborden.bandpage.com.