Film & TV
Charles Lloyd, Arrows into Infinity
Wife, Filmmaker Dorothy Darr Takes Us Behind the Music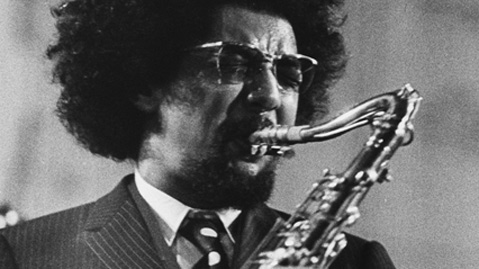 Charles Lloyd, Arrows into Infinity delves into the rise, fall, and rebirth of one of the world's most revered jazz legends, and one of Santa Barbara's most beloved residents.
Directed by Lloyd's wife/manager, Dorothy Darr, the film lovingly retraces the iconic jazz man's humble beginnings, big-city triumphs, cross-over successes, and his ongoing spiritual journey through music, and features appearances by everyone from Robbie Robertson to Herbie Hancock to Ornette Coleman.
Below, we talk to Darr about sharing a lifetime of music with Charles Lloyd.
You're obviously very close to your subject. What prompted you to make the film?
My life has been inextricably intertwined with Charles's for almost 45 years. I started out as a painter and have always seen myself as a storyteller. Charles's music and aspects of our lives together and apart have been seeds of inspiration for my paintings and collages.
In the early '90s after Charles returned to touring, I bought a video camera and started lugging it everywhere. My first attempt at creating a film about his life was in 1995 with a film called Memphis Is in Egypt.
When was the project started and when did you wrap production?
This had its earnest beginnings in 2008 when my co-director Jeffery Morse and I decided a full-spectrum documentary of Charles should be made. Charles will celebrate his 75th birthday this March, so, to be sure, I needed to be finished before then. Last fall we were nearing the end of our editing when I got word that Robbie Robertson wanted to contribute to the film, but we weren't able to schedule his interview until the very end of October. We were hesitant because of the late date, but he had so much to share that I was very happy that we went ahead with it.
As Charles's wife, we'd assume you know close to everything there is to know. Did you learn anything knew about him through the filmmaking process?
I learned a few things, but I think the sweetest thing I learned was from Lewie Steinberg, the original bassist with Booker T. and the MGs. He's about five years older than Charles and told me that, when he was 15, he got his first professional job from Charles. The image of 10-year-old Charles and Lewie playing around a bonfire for a picnic group in Memphis was priceless.
For fans, this will no doubt be the most exhaustive collection of footage out there. After going through this stuff, do you have a favorite performance?
I have three: Antibes with the original quartet in 1966, Charles and Michel Petrucciani playing in my studio in Big Sur in 1981, and the New Quartet performing here at the Lobero in 2010.
I am very proud of the fact that I won a long battle to get the rights to have footage from the 1966 Antibes Jazz Festival. Aside from its original broadcast in France in 1966, I don't think this has ever been seen again. It was shot by a renowned French director, Jean-Christophe Averty, for Radio Television France, and he had stipulated that no one could cut or edit his work. It was a ridiculous set of restrictions because there was no sound for the first nine minutes and then it dropped out again at about 18 minutes. I won the battle, and the power and magic of that group is palpable.
How important was it to let the music occupy its own space?
Charles lives and breathes music, so of course it had priority. But we were not making a performance documentary, so while there is music throughout, it is not always from a live performance. But to your question, it was very important to let it have its own space.
What were some of the bigger challenges presented to you over the course of the filmmaking process?
I wanted the film to reflect the nuanced artistry, not only Charles's music, but the art of his remarkable life, as well. This was my greatest challenge.
How did Charles react upon seeing the finished product?
I think he was genuinely moved by it. Life goes by almost in a nanosecond. I have been truly blessed in this lifetime to be able to live it with Charles.
Charles Lloyd, Arrows into Infinity screens on Saturday, January 26, 7 p.m. at the S.B Museum of Art and Tuesday, January 29, 10:20 a.m., at the Metro 4.