Arts & Entertainment
Father John Misty at SOhO Restaurant & Music Club
Josh Tillman Closes Nine-Month Tour with Sold-Out Santa Barbara Show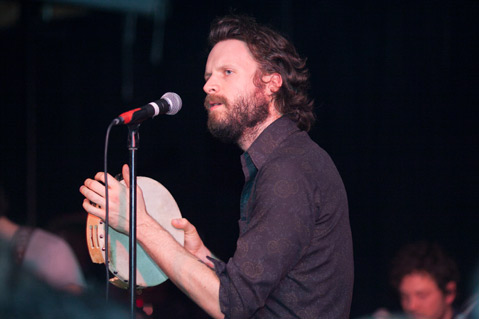 It's been a wild year for Josh Tillman. Since the 2012 release of Fear Fun, his debut under the Father John Misty moniker, the former Fleet Fox has busily traversed the globe in support of his new gig. He's toured Europe, hit Australia, even spent a few days at sea as part of the S.S. Coachella. But on Friday night at SOhO, FJM finally found himself close to home, celebrating the last stop on a nearly nine-month-long tour.
The sold-out concert marked Father John's first technical S.B. stopover, though fans will remember a more subdued Tillman plugging in at Muddy Waters back in 2008. No matter, though, because the folks who came out on Friday proved to be all levels of acquainted (and unacquainted) with the tunes. The night started strongly with a cute set of guy-girl harmonies from none other than Adam Green and Binki Shapiro (of Moldy Peaches and Little Joy fame, respectively). Armed with a powerfully lady-like voice, Shapiro easily stole the show, and the audience reacted accordingly when Green took over for some solo songs halfway through the set.
As any good YouTube search will tell you, Tillman's spent the better part of a year perfecting his eccentric hip-swaying, mike-flailing Father John Misty persona. And while Friday seemed to offer a slightly subdued version of the folk-meets-glam shtick, it still sounded next to perfect. As far as highlights were concerned, quiet newbie "Honeybear" struck a chord, while a tripped-out take on "Hollywood Forever Cemetery Sings" brought with it a floor-shaking mix of drums, guitar, and reverb, as well as a booming end to this chapter of Tillman's career.