Arts & Entertainment
SBCC and Jazz at Lincoln Center Collaborate
New Intensive Jazz Institute for Santa Barbara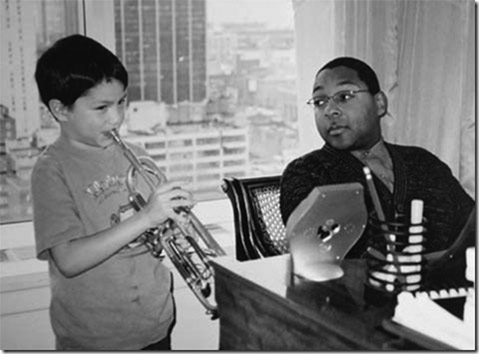 If you are an 18-year-old saxophonist whose musical oeuvre is jazz, you might spend a summer week at one of dozens of workshops across the country: for example, at Juilliard, Stanford, or the University of North Texas. But if you are very good and seriously considering music as a career, where do you turn for more substantial guidance on how to play the changes? Where do you find the jazz equivalent of the Tanglewood Music Center or Santa Barbara's own Music Academy of the West (MAW), great endowed institutions dedicated to grooming the next generation of classical musicians? Winnie Swalley, executive director of the first annual Santa Barbara City College Intensive Jazz Institute (SBCC-IJI), is answering on a high note.
The SBCC-IJI is entirely new in scope, duration, and intensity. What's more, it is allied with New York City's Jazz at Lincoln Center (JALC), laying tracks for a kind of Ellingtonian transcontinental "A" train. JALC, founded and directed by the Pulitzer Prize–winning trumpeter Wynton Marsalis, is celebrating its 25th anniversary and augmenting its already extensive educational work with this unprecedented summer partnership. The annual six-week residency, which runs from mid-June through the end of July, will accept 60 advanced students and preprofessionals into a rigorous, full-time immersion program.
A stellar faculty of JALC-affiliated musicians, led by JALC Orchestra saxophonist Ted Nash, will coach, mentor, and perform with the students. The artistic emphasis will be on encouraging individual expression, but the curriculum embraces a broad spectrum of needs for the up-and-coming jazz professional — not only composition and technique but also marketing, web design, business, and recording. There will even be morning yoga. The Santa Barbara public, in turn, will have opportunities to attend workshops, master classes, and big-band and combo concerts at venues on and off campus.
As Marsalis has written, "Americans would like their actual music if they were encouraged to hear it." The SBCC-IJI promises to broaden public awareness and inject a new current of life into the S.B. jazz scene. Rather than taking anything away from the Music Academy of the West, this new program will complement the classical fare served there and enhance public participation in a fuller spectrum of music. A bird flies on two wings, and the summer unfurling of these two programs could, in time, make the city soar. There's talk already of an unofficial "Music Academy of the West Side" T-shirt.
But none of this occurs overnight or easily, as Swalley well knows. While JALC brings to the table its network of musicians, its library of charts, and years of pedagogic wisdom, the funding of the SBCC-IJI is entirely independent. Fundraising efforts this year will offset only a portion of the tuition; the aim, within a few years, is a fully endowed fellowship program.
Swalley, a Filipina immigrant who grew up in Brooklyn, made acquaintance with Marsalis in the late 1980s while living in N.Y.C. In 2001, he saw her 6-year-old son holding a little trumpet case and invited them to his apartment "to check out what we're dealing with." Marsalis was impressed enough to invite the kid back for a lesson. Excusing himself for a few minutes to take a phone call, Marsalis returned to find that the boy had helped himself to Marsalis's signature Monette trumpet. His mother was mortified, but Marsalis defused the tension with his deferential cool, saying, "Harry has ennobled my horn." More lessons followed, and today the 19-year-old Harrison Swalley is a freshman at the prestigious Berklee College of Music in Boston.
The bond between Swalley and the JALC Orchestra grew during the bruised and tender aftermath of the 2001 terrorist attacks, when she and her husband, Arthur Swalley, hosted a reception for the band — which happened to be touring the West Coast at the time. In the intervening years, whenever the JALC Orchestra blows through Santa Barbara, the Swalleys throw a post-concert party, with a big pot of New Orleans-cum-Philippines gumbo and jam sessions in the living room running to 5 a.m.
It was during these informal occasions, over the course of 10 years, that Swalley beat her drum for the institute, with Marsalis and Nash tapping their toes in agreement but not yet ready to dance. Then last year, Marsalis played the coda, saying "Okay, let's do it." Swalley leaped into double time. A polymath who studied classical voice and plays wind instruments and is a screenwriter and multimedia artist who also designs iPhone apps, Swalley is voluble and opinionated, an engaging conversationalist with a quick mind. In other words, she is the ideal den mother for her new charge. She shares Marsalis's commitment to standards in arts criticism and education. He is fond of saying that you have to join the tradition before you can even think about pushing it forward. And while there will never be a shortcut to the cutting edge, the SBCC-IJI can do much to help the novice access guides and pathfinders. They have a saying at JALC: "There is no generation gap in jazz."