Opinion
Beach Bottleneck Brewing
La Entrada on the Way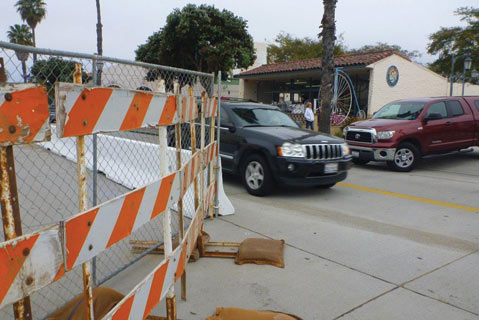 LINE UP: In life, things can hit you without warning, like a falling safe, a drunk driver, or a boss who decides you're dead weight on the budget.
Other things you can see coming years before disaster hits. In the case of the horrendous traffic bottleneck I see brewing due to the narrowing of State Street at the beach, city honchos do not seem unduly ​— ​or even duly ​— ​worried. A traffic consultant has assured them that everything will be just fine. (You know what a consultant is: someone with a briefcase who lives 200 miles away.)
However, one city official I talked to conceded that on busy summer weekends, it will "get crowded" down there.
Where beach-bound traffic now has two lanes when approaching the key intersection at Cabrillo Boulevard, workers are already narrowing it to one each way. My take: You will not want to get near this chaos when it's finished this summer, or even before. When the Fiesta parade arrives, the horses are in for a big surprise.
Of course, I could be wrong. After all, I've been a Cubs fan since my dad held a staticky radio up to my crib. And despite my predictions of "Wait 'til next year," they haven't won a World Series since 1908.
This State Street lunacy goes back to the early 1990s decision by a foolish City Council to okay Bill Levy's monstrous La Entrada project after Levy spread campaign donations far and wide. Widening the sidewalks and narrowing the auto choke-point sounded just fine, I guess.
Meanwhile, the misbegotten project's third owner, L.A. developer Michael Rosenfeld, is coming up with one redesign and rescheduling proposal after another for his 123-room hotel project and commercial space.
To be fair, the street slicing and dicing was thoroughly argued over a decade ago and okayed by various city commissions, the City Council, and the Coastal Commission. It was seen as a way to provide a welcoming plaza, shops, and wider sidewalks, an inducement to tourists to wander ​— ​more fun than gazing at four lanes of pavement. "A political decision," one official puts it. When at last we emerge from the single lane, State will open up to allow us, as at present, to turn left or right onto Cabrillo or go straight ahead onto Stearns Wharf.
Speaking of the planned public plaza, it seems to be a moving target, growing smaller by the day. A month ago, Rosenfeld proposed cutting it from 16,600 square feet to 9,000. After critics howled, he's now offering 12,600. He's already several months behind on the project and wants to revise the sequence of work. When the blight will get brighter, who knows?
MORE HORSE MEAT: While Europe is still stewing over horse meat mislabeled as beef, I'm hearing stories about horseflesh being served right here in Santa Barbara. A friend recalls fellow college kids gathering around the fire on the Mesa beach during the 1960s and roasting budget horseflesh steaks from a local pet store.
And retired pharmacist Jim Mills wrote me about how Santa Barbara city firefighters chowed down one night at the firehouse mess back in the early 1950s.
"A fireman found some source of horse meat certified for human consumption. While many people would balk at the idea of eating horse meat, they are, in fact, large grazing animals and aside from humans' aversion to it because of a sort of 'friendly connection' (Roy Rogers didn't ride cows) it would make as much sense to eat them as humans have historically eaten zebras, elephants, mammoths, mastodons, bison, deer, elk, reindeer and a whole range of assorted animals ​— ​avian and reptilian as well as mammalian."
In Mills's day, smoke-eaters rotated cooking chores. "So, the guys on 'B' shift went ahead and prepared a sumptuous meal featuring our friend the horse. The 'A' shift really ragged them about it, as though they were akin to cannibals. One 'A' shifter brought a large color picture of a farmer plowing a field behind a horse. They hung it up with a label 'Dear Old Dobbin.'"
"Did you eat the equine meal?" I asked Mills. "I didn't personally. Others did."
OUR TOWN: The Rubicon Theatre's staging of the Pulitzer classic, Thornton Wilder's tender, moving exploration of life and death in an early 1900s New England village, brought a lump to my throat. Lauren Patten, as young Emily, won my heart. It shows through March 31.