Food & Drink
Late-Night Smackdown!
Mac-and-Cheese Madness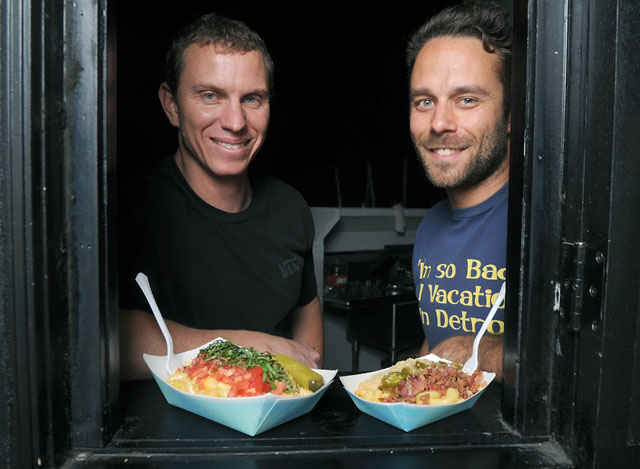 The next time your downtown barhopping misadventures have you dealing with a case of the drunken munchies — or merely looking to sop up the last several rounds with some cheesy comfort carbs — you'll have a choice where to get the sloppy job done.
Those who stumbled to the Greek House (5 W. Haley St., [805] 560-0809) last year might remember enjoying some mac 'n' cheese, with toppings inspired by those native to pizza, like bacon and jalapeño or tomato and basil. (Then again, they might not remember anything at all.) That mac 'n' cheese was, until the end of January, the product of a collaboration between Greek House owner Stan Nicolaides and retail-industry refugee–cum–restaurant entrepreneur Damian Gover. But there's more to this story than cheese.
Nicolaides has offered a late-night menu out of his location off and on during the six years he's been in business, sometimes with partners, sometimes without. He wasn't working the late-night scene when Gover approached him last year, asking if he'd be interested in partnering up; Gover had a late-night mac 'n' cheese concept in mind. And though he didn't have culinary experience himself (he eventually connected with Marcos Huston via the SBCC Culinary School), Gover grew a sizeable following, using, incidentally — and according to Nicolaides — Nicolaides's old mac 'n' cheese recipe from when he worked at the Four Seasons. And, one mustn't forget, tots.
The relationship curdled late in January when, depending on whom you're talking to, one of two things happened. Gover contends that Nicolaides, jealous of his success, suddenly told him he was breaking the partnership and then took it over himself. Meanwhile, Nicolaides — who is quick to say he has no interest in mud (or mac) slinging and enjoyed working with Gover — contends the partnership was ended because neighbors were complaining and Gover was branding the endeavor the "After Dark," which got the health department on his back for running a separate business out of his location and left Nicolaides in danger of losing his business license. Since the separation, Nicolaides has reported a handful of incidents of late-night harassment.
It's all enough to get one's head spinning (no drunkenness necessary). But you know the saying: There are three sides to every story — yours, mine, and the macaroni's. And, when it comes down to the side you're likely to be most concerned with come 2 a.m., here's all you need to know: Gover has found a new partnership, with Craig Jenkins at Velvet Jones (423 State St., [707] 478-6629). He just completed a kitchen build-out, secured a thumbs-up from the health department, and will be slinging his mac 'n' cheese from there — whether there's a show going on or not. And Nicolaides has beefed up the late-night offerings at the Greek House. There, his menu includes chicken and waffles, gyros, customizable grilled cheeses, and yes, mac 'n' cheese.
So perhaps the only question that remains is not whether there is room for two late-night mac 'n' cheese (and more) pop-ups in downtown Santa Barbara, but if it is really a good idea to consume a creamy, greasy, spicy, meaty, gooey, or otherwise serious meal after you've been throwing back 2-for-1 well drinks all night.
"We like to think that we're doing a community service," said Gover. "We call this blackout prevention food. We're also preventing hangovers, and clearing people's minds before they make terrible mistakes or indiscretions they'll regret in the morning."
So there's that.