Food & Drink
Douglas Does Dinner
The Santa Barbara Independent's New Series Invites Chefs into Homes to Cook and Teach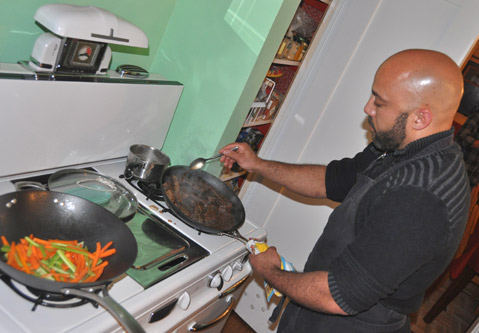 Come six o'clock, who hasn't thought how great it would be to demand from someone, "Make me dinner!" — without getting laughed at or punched? In this new series, we'll do just that — with pros doing the cooking in the humble home kitchens of regular folks, while keeping costs low, technique not too tricky, and end results tasty. And while we can't share the actual spoils with you (sorry, no leftovers!), we'll do the next best thing: We'll introduce you to the players, let you know what we learned, what we ate and drank, and send you away with a recipe or two.
The Chef
Caterer Danny Douglas ([805] 722-7040, dannydouglascatering.com) has been a Santa Barbara Independent favorite since impressing us at one of our BBQ contests. As good a chef as Douglas is, he's even better at being unflappable, so he seemed a perfect choice to kick off this series.
The Challenge
We told Douglas he'd be cooking for six, gave him a small budget ($50), asked for three courses, and made it clear he had to come up with a menu we could pull off, too.
The Booze
We were treated to prerelease samples from guest Matt Dees's latest project, Goodland Wines (goodlandwines.com), a collaborative effort among wine-industry veteran friends — Dees (Jonata Wines), Dave Potter (Municipal Winemakers), Christian Snowden (Snowden Vineyards), and Ruben Solorzano (Stolpman Vineyards and elsewhere) — that labels its wines by vineyard and not by varietal. "It is our way of further exploring Santa Barbara County vineyards and expressing them via a specific AVA [American Viticultural Area] template," Dees explained. "We select a vineyard from each AVA that we believe in and do our best with one ton of fruit from each site. The result is small quantities, roughly 50 cases per label, of sincere blends that we hope speak volumes of the place."
These are definitely food-friendly wines, the Sta. Rita Hills White picking up both the acid of the fruit and the fat of the avocado in the salad, for instance. Dees joked, "I'm going to piss a lot of people off, but it's a great way to respect Santa Barbara County and move the wines along."
The Menu
Using nothing more exotic than fleur de sel, the big expenses are the 12 shrimp (medium, or 31-35 count per pound) and the three pounds of short ribs; otherwise, it's a simple trip to the grocery store or farmers' market for carrots, celery, and potatoes.
• Butter lettuce salad with shrimp, grapefruit, and avocado, plus a citrus vinaigrette
• Cabernet braised short ribs with veggies and potatoes mousseline
• Crème brûlée
The Amateurs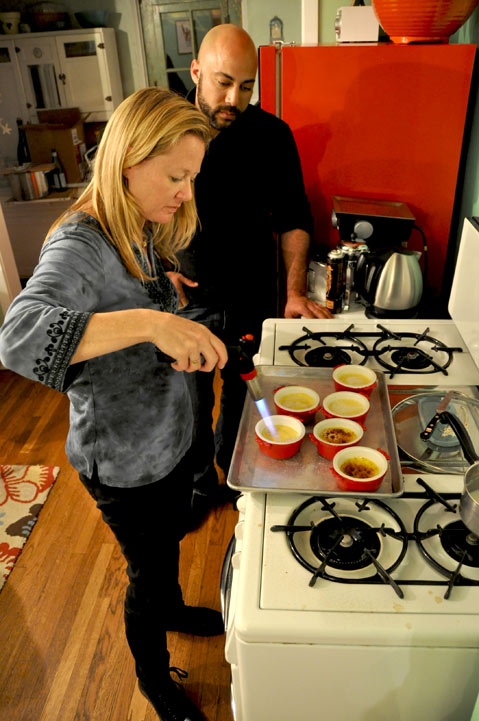 My self-pleased reverie over knowing what it means to julienne carrots — cut them into matchsticks — doesn't last long. "How do you hold your knife?" Douglas asks me. It turns out I do it in a way that could easily lead to imbalance, making clear why I'm not a chef named sous. Now with my index finger guiding along the blade top, I might not be fast, but I'm certainly less oafish. This "make me dinner" thing pays dividends quickly.
My wife, Chryss Yost, meanwhile, gets a quick lesson in cutting supremes (restaurant-ready quarters) of grapefruit. Douglas lops off one orb's end so it sits flat, and peels the rind with his knife effortlessly. Two surgical strikes at angles between pith and it's a perfect slice. I suggest doing it over a bowl so as not to waste a drop of juice, admitting, "Every bit of fruit I see, I want to turn into a cocktail." Alas, this is for the dressing.
The Pro
Much of the dinner comes together quickly as the even-keeled Douglas is well-prepped. Even home cooks can work a day or two ahead if they plan (that can be hard, I know). Douglas precooked the shrimp, exactly done and not over, by steeping them in a court bouillon off the heat. (Much more control that way.) Almost everything else is cooked on very high heat. "In a restaurant, people want to eat; you don't have the luxury of time," Douglas suggests.
But when it comes to oven-cooking the ribs, there is no need for speed: Do it for three hours so they get very soft and soak up that cabernet sauce.
This is a meat-and-potatoes meal, but Douglas has fancied up mashed potatoes into mousseline (peeled, boiled in water saltier than I'd normally do, run through a ricer, mixed with hot milk and brown butter), a trick he learned at Eleven Madison Park in New York. It makes them more elegant and rich. Some veggies make the ribs a bit more pot roast–like.
The Recipe
Cabernet Braised Short Ribs
3 lbs. short ribs, bone in
1 onion, large, diced
2 carrots, large, diced
2 stalks of celery, large, diced
1 bay leaf
½ bottle of cabernet red wine
1 pint of chicken or veal stock
1. Sear short ribs in cast-iron skillet over high heat until meat is brown on both sides.
2. Remove meat and add vegetables; reduce flame, and sweat vegetables until translucent. Remove vegetables.
3. Deglaze skillet with red wine, and reduce by half.
4. Add stock, and return meat to pan. Cover and place in a 375°F oven for about 3 hours or until meat is falling off the bone.
5. Save cooking liquid. Remove bones from meat.
6. Before serving, put cooking liquid in freezer for 15 minutes.
7. Remove cooking liquid from freezer; scrape off the fat that has solidified.
To Serve:
2 carrots, julienned
2 stalks of celery, julienned
½ cup water
2 tbs. butter
1. In hot skillet, add ½ cup of water and 2 tbs. butter.
2. Add carrots; let cook for several minutes.
3. Add celery. Cook until vegetables are just soft.
4. In another pan, heat cooking liquid/jus.
5. Add reserved rib meat. Baste ribs with the warming jus.
6. On a warmed platter, put the celery and carrots, and top with the braised meat and jus.