Film & TV
Ginger & Rosa
Elle Fanning, Alice Englert, and Alessandro Nivola star in a film written and directed by Sally Potter.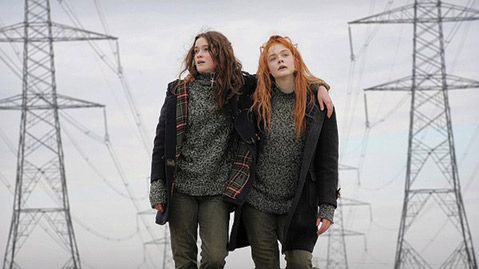 British writer/director Sally Potter has pulled off an impressive feat with this uncommonly intimate and naturally flowing rite-of-passage tale. She smartly zeroes in on the churning and evolving relationship with the two teenage girls of the title, with details and music of the 1960s and the specter of atomic-bomb angst brewing in the background. The Bomb itself serves as a subplot and also a symbolic echo of the internal and familial struggles percolating beneath and above the narrative surface.
Even so, the strongest impression and takeaway from Ginger & Rosa is the stunning performance of young Elle Fanning, whose beaming expressive face — duly noted by cinematographer Robbie Ryan — looms large on the screen and registers a kind of slow-moving shift from sweet innocence to disillusionment. In a sense, the evolution of her character and world outlook, telegraphed through subtle changes in her face and bearing, is the real subject of the film, and the performance is somewhat reminiscent of her sister Dakota's remarkable innocence-to-wariness arc in the under-seen and underappreciated Hounddog.
As jazz classics of the day waft through the soundtrack, we watch the bonding and unraveling of a friendship. Threatening factors include a father with a loose attitude toward May-December gallivanting and, of course, the possibility of nuclear oblivion, which Ginger obsesses over. JFK, in Cuban Missile Crisis era, offers a tidy enough motto for the film itself: "The cost of freedom is always high."
There is a passage in which Ginger & Rosa, working toward bringing its plot elements into a climactic detonation and resolution, takes a half step toward melodrama, undermining the poise of what came before. But thankfully, Potter rights the ship, and the film regains its composure. In a late-breaking moment in the film, the camera lingers on an extra-long shot of Ginger and her father, waiting in a hospital and with Vermeer-esque light beaming diagonally through a window onto her red locks. We listen in on her interior monologue as she pens a letter to her estranged friend, a little older and wiser, and we assume a little bit more resigned to the fragility of fate in the adult world during the atomic age.