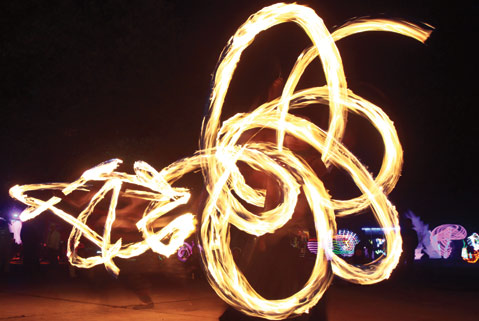 Campgrounds. They are as distinctive a feature of the California lifestyle as our beaches and mountains, never mind the freeways and overpasses that we must use to reach them. For more than a century, spring in this state has been a time when large migrations take place, as people haul out the camping gear and pile into cars and trucks to head for those sacred natural places that welcome them. For Californians of all ages, the spring camping trip signifies renewal and reawakening in a way that's as primal and as life-affirming as wildflowers and sunny days.
But now, in the 21st century, the ritual of the spring camping trip has undergone a dramatic makeover as the urge to get out and sleep in a tent — or even directly under the stars — has mated with another impulse. This updated version, somewhat wilder and definitely more collective, finds teams of people gathering in self-proclaimed tribes and makeshift villages for a new millennial tradition: the camping-based music-and-arts festival. Santa Barbara, always at the forefront of such developments, has its own very special spring awakening, and it is coming up in just a few days. Lucidity, the "open-source transformational music and arts festival," is returning to Live Oak Camp in Santa Ynez for four nights and three days in April, with arrivals permitted on Friday, April 12, and nonstop activities scheduled through Sunday, April 14. With it comes a panoply of opportunities not only to camp with friends and listen to great music but also to connect with new people, try new things, learn, and engage in one of the most audacious efforts at post-millennial community building and visionary life sharing that Santa Barbara has seen yet.
For the founders of Lucidity, the key to understanding the way the event works is you. As envisioned by Luke Holden, Jonah Haas, Andrew Garrard, Alan Avila, and Satory Palmer (Palmer, by the way, has left the group, selling his share in the limited partnership in order to start Lunacy, another event that took place at Live Oak but is not associated with Lucidity), the ultimate goal of the weekend can only be realized inside each and every participant. In the Lucidity mission statement, there is a list of seven principles used to guide the evolution of the organization, and from numbers one ("participation") and two ("personal growth and healing") all the way through to seven ("transparency"), all the values have to do in one way or another with the idea of people coming together not to be passively entertained, but to become a part of something that will leave them different from what they were when it began.
This is not to say that there won't be anything entertaining available. The schedule, which is online at lucidityfestival.com, includes an amazing array of great artists, speakers, healers, and performers. On Friday night, the large Lucid stage, which will be going all day, as well, will light up after sunset with such feature acts as Kaminanda and ill.Gates. Over on the Alive stage that same night, there will be many performances, including Santa Barbara favorites Rainbow Girls and Liberation Movement (Heavyweight Dub Orchestra).
Outside the lights of these two stages, a fantasy playground will stretch in every direction courtesy of outdoor light-scaping genius Jonathan Smith. There will be bamboo structures by Gerard Minakawa and Bamboo DNA, and an original theatrical production by the Fishbon collective called Terminator Too Judgement Play. Fishbon, S.B.'s constant source of new ideas, is making a particularly strong showing at this year's Lucidity with the Fishbon Proscenium, a stage and discussion area that will host not only the Terminator play, but also a series of informative and interactive "Fishtalks," short presentations modeled on the TED talks format, only much funkier.
Awaken on the grounds Saturday morning, and you will be only steps away from a huge hive of conscious activities, from morning yoga classes to family workshops on gentle gardening and hooping. Lucidity is an all-ages event and encourages people to bring their children. It's nice to think that late-sleeping teens will be hassled awake by their moms on Saturday with the news that it's "time to take off your shoes and get on over to the Universal Love Galactivation," which will feature crystals. Come Saturday night, music fans can stumble upon sets from L.A. stomp-folk act He's My Brother, She's My Sister and the always amazing Gladkill, who'll close down the night at the Lucid stage.
Perhaps the most interesting of all the futuristic ideas in play at Lucidity is the notion that this is the second year in a "six-year story arc." The group's grand ambition is to bind the community together in a journey of self-discovery that is at once collective and personal, aware and heroic. That's a big goal, but with your participation, it's within reach.
4•1•1
Lucidity begins Friday, April 12, and ends in the early hours of Monday, April 15, at the Live Oak Camp (4600 Highway 154). Tickets, both full-weekend and day passes, are still available at lucidityfestival.com. Hard-copy tickets are also available at the Isla Vista Food Co-op (6575 Seville Rd.) and Bizerk (423 State St.). If online tickets sell out (which they did last year), check these two outlets for hard-copy tickets.