Arts & Entertainment
Review: Coachella 2013
Surprise Guests and Sand Storms Strike Annual Music Fest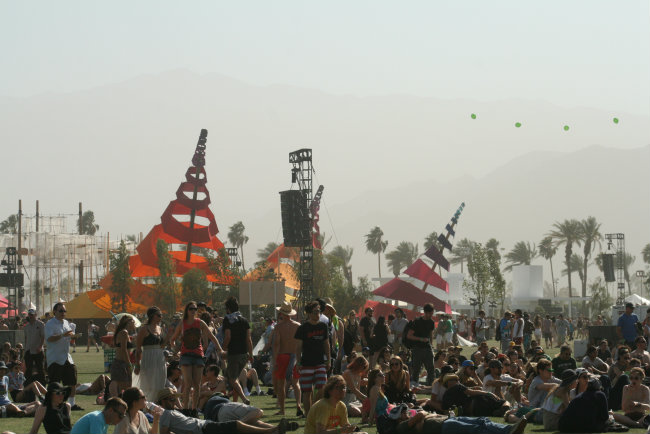 Let's face it: Once you make headlines for resurrecting the dead, you've probably hit your peak. This year, the annual Coachella Valley Music & Arts Festival had a lot to live up to. In 2012, the three-day music melee expanded to two weekends, scored Radiohead and The Black Keys, and, yes, brought back Tupac, albeit in hologram form. So, when 2013's lineup was announced, and arguably worthy headliners like Blur and Phoenix made the top of the bill, more than a few folks posited that Coachella had jumped the shark.
Of course, there's a lot more to this weekend than huge-name acts, and if you went in with that mentality, Coachella 2013 had the potential to be one of the fest's strongest years. Why? Because if you showed up early, gravitated toward the smaller stages, and kept your eyes peeled, you more than likely stumbled upon something great. Case in point: Dâm-Funk's Friday afternoon set atop the Coachella Stage, which featured L.A. avant-rocker (and 'chella alum) Ariel Pink showing up to cover Donnie and Joe Emerson's "Baby." Less than an hour later, we saddled up to the Gobi tent to discover Bon Iver's Justin Vernon joining Minnesota electronic pop act Poliça. Later in the day, Johnny Marr delivered a killer rendition of The Smiths' "There is a Light That Never Goes Out" and Alt-J brought a packed Mojave tent to its knees with cuts off their recent debut, An Awesome Wave.
Come dusk, L.A.'s beloved Local Natives gave a rousing and high-energy set at the Outdoor Theatre that included some of the weekend's most breathtaking harmonies. Across the way, Modest Mouse struggled through a number of feedback issues, while Beach House went all moody on us with a set that was mostly shrouded in darkness.
But the lack of lights was quickly made up for thanks to the Yeah Yeah Yeahs, who returned to the fest louder, stronger, and more insanely dressed than ever. Luckily, that meant frontwoman Karen O showed up ready to party, spiked pants and microphone-swallowing tricks in tow, and gave us an equally over-the-top performance that included oldies like "Rich" and "Pin." And later, EDM's resident metalhead, Bassnectar, unleashed a full assault on the Sahara tent, accompanied by a light show that was equal parts awe-inspiring and seizure-inducing.
Saturday's highlights included a funky, sweaty Coachella Stage set by Theophilus London, a mellower (but equally too-hot) show from Brit Ben Howard, and a wholly chaotic turnout for Major Lazer, which we got to appreciate from a (sizable) distance. Violent Femmes wasted no time during their 6 p.m. set, kicking things off with "Blister in the Sun" to the delight of many a day drinker. Across the polo field, Brooklyn's Grizzly Bear dominated the Mojave tent with their otherworldly harmonies and picturesque collection of lanterns, while local boy Jimmy Tamborello made good when he took to the Coachella Stage as part of The Postal Service and helped start a 10,000-people-strong sing-along. And despite a criminally late start, young Janelle Monáe captured our hearts with her boisterous presence, slick dance moves, and downright eardrum-shattering backing band. Hearing loss aside, the night ended, strangely enough, with R. Kelly joining Phoenix for his "Ignition (Remix)." The surprise caught nearly everyone off guard, causing youngins to rejoice and those holding out for a Daft Punk appearance to slink away dissatisfied.
Sunday, the unwelcome star of the day turned out to be the weather, which dipped down into the 60s and brought with it gusting winds and an apocalyptic dirt fog that hung heavy over the grounds. The benefit: some unexpectedly drama-filled sets, especially among long-haired rockers Kurt Vile and the Violators and Tame Impala. Early on, Jamie xx successfully overflowed the newly installed Yuma tent, while Grimes unleashed a pleasant synthy fury on her young disciples. Across the field, The Gaslight Anthem and Social Distortion drew out the old school rockers, while The Lumineers delivered a cloyingly earnest collection of shout-along numbers atop the Coachella Stage. But ultimately the day belonged to Wu-Tang Clan, whose 9 p.m. reunion at the Outdoor Theatre brought Method Man, GZA, Inspectah Deck, Ghostface Killah, Masta Killa, Raekwon, RZA, U-God, and Cappadonna back together amidst a legit sandstorm for what they fittingly dubbed "Hurricane Wu."
All in all, it made for an impressively theatrical end to a weekend where theatrics reigned. Even without the holograms.