Theater
Anything Goes Comes to the Marjorie Luke Theatre
Santa Barbara School of Performing Arts Does Cole Porter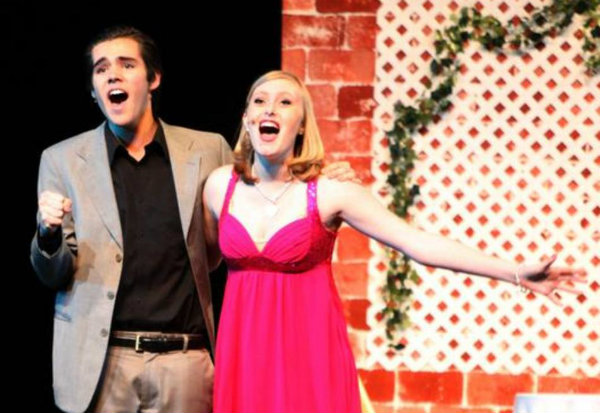 Anything Goes, in addition to being one of the most suggestive phrases in the English language, is the title of a 1934 musical comedy by the great Cole Porter. It's coming up on its 80th anniversary, and that puts it in vivid contrast to the relative youth of the Santa Barbara School of Performing Arts, the one-year-old organization that's presenting the venerable show on Saturday and Sunday, June 1 and 2, at the Marjorie Luke Theatre. The ensemble, which ranges in age from 10 to 18, is drawn from schools all over Santa Barbara, and the team behind the show, Jessica Hambright and Dauri Kennedy, are Santa Barbarans known as much for their skills as teachers as for their considerable expertise in direction, choreography, and vocal technique. They have been working with this group of performers for more than three months, and, together with physical comedy coach Josh Jenkins, they have turned these 26 young people into a crack team of tap dancing Broadway gypsies.
That's right, this is a musical with tap dancing. Hambright positively glows when she describes creating the tap number, sayin, "It's seven minutes of 'anything goes' with 26 kids on stage the whole time, tapping their hearts out." The plot, which involves a young man who stows away on an ocean liner in order to pursue his love at first sight crush, is full of vintage 1930s zaniness, and, according to Hambright, the student performers took to it at once. "The first full read-through was kind of amazing, as the students could feel just how stupidly well written it is. Plus, the stage directions are hilarious. They were hooked." The classic songs in the show go far beyond the title tune to include some of Porter's best work: "You're the Top," "I Get a Kick Out of You," and even, in some versions, "Let's Misbehave." That does sound like the kind of thing that young people might understand, doesn't it?
4•1•1:
Catch Anything Goes at the Marjorie Luke Theatre (Cota St.) on Saturday, June 1 and Sunday, June 2 at 2 and 7 p.m. Call (805) 708-8897 or visit sbsopaanythinggoes.brownpapertickets.com for tickets and info.