News
Jeff Bridges Targets Child Hunger
Headlines Launch of No Kid Hungry Campaign in Santa Barbara
With a genial smile and a welcoming handshake, Jeff Bridges — Oscar-winning actor and part-time Santa Barbara resident — greeted the media last Thursday in a McKinley Elementary School classroom as part of his partnership with the Share Our Strength's No Kid Hungry campaign, a movement determined to end child hunger in America.
Bridges, a staunch advocate for childhood hunger issues, has worked on the matter for nearly 30 years, having cofounded the nonprofit organization End Hunger Network in 1983. Three years ago, he teamed up with the No Kid Hungry Campaign as its national spokesperson, playing an integral role in boosting the movement's visibility and championing community involvement. "When kids are hungry, the community suffers," remarked Bridges.
No Kid Hungry has now arrived in Santa Barbara. The county launched its very own Food4Kids Campaign, a texting program organized under the leadership of Bridges, local school districts, and other community partners. Through the campaign, low-income families can now use text messaging to easily find places that provide free summer meals. Bridges elaborated on the importance of making the campaign's unveiling an attractive and encouraging event for the children: "The intention is to make the program festive and social … a venue for bands and a place that is welcoming to kids."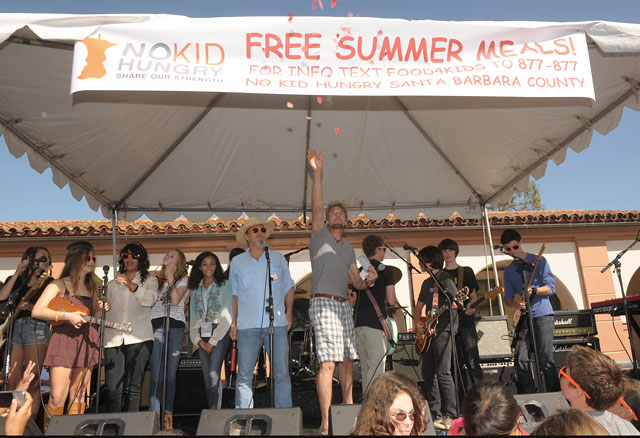 The school event hosted numerous organizations around Santa Barbara that participate in the text program as well as performances by youth bands. With nearly 22,000 food-insecure children — children deprived of reliable access to nutritious food — in Santa Barbara County, the issue is exacerbated when the summer comes around.
How, though, do so many thousands of children go partially unfed when scores of meal-providing sites exist across the country — less than 20 percent of those getting reduced-priced lunches during school know that they are eligible to get reduced-priced breakfast — with a number in Santa Barbara alone?
To remedy this discrepancy between eligibility, awareness, and acquisition, the No Kid Hungry campaign establishes the following objectives:
— Collaborate with programs on the ground to raise awareness of their existence (such as the texting program and the Food4Kids campaign at McKinley).
— Expand the number of sites that serve food to connect kids to effective nutrition programs (programs like breakfast in the classroom, summer meals, and the Cooking Matters initiative, which educates low-income families on how to stretch their budgets to obtain healthy meals for their kids at home).
— Increase the capacity of the sites that provide those programs (through, for example, providing grants for infrastructure and enrichment activities around those meals).
Essentially, No Kid Hungry employs a state-by-state strategy to connect and fund organizations that supply food to the children who need it. And with each state bearing different needs, the program seeks the right anecdote for collaborating with organizations that help them meet their goal. In forging the most successful partnerships, explains Lindsey Spindle, No Kid Hungry's chief communications and brand officer, the campaign places an enormous emphasis on trying to match kids with nutritious food: "We know that for kids to grow, it's not just about getting any food, but it's about getting healthy food."
While summertime is the season for joy and recreation for most children, it poses a significant barrier for children who rely on meals provided through their schools during the school year.
No Kid Hungry has a working solution for the problem. The national, federally funded, yearlong program collaborates with like-minded nonprofit organizations in hopes of connecting them with others and creating a mass network of food-providers for children up to age 18. Its latest summer meals initiative, which is part of a nationwide effort during summer, brings together the public and private sectors — nonprofit organizations, local, state, and federal governments, and corporations — to end hunger in the summer. By recruiting new summer meals sites, reaching out to low-income families, and allocating grants to support organizations with goals similar to those of No Kid Hungry, it connects more children to summer meals in their communities.
Within the Santa Barbara Unified School District (SBUSD), McKinley Elementary and Adelante Charter School are among schools that have implemented breakfast in the classroom in kindergarten through 6th grades. This program — yet another national effort promoted by No Kid Hungry — takes breakfast out of the cafeteria and puts it into the child's place of learning. By doing so, Josh Wachs, chief strategy officer of Share Our Strength, explained that it tackles a series of barriers preventing children from obtaining breakfast: It increases awareness of breakfast availability to children who need it and are unaware of its existence at school, reduces the stigma associated with distinguishing oneself in the cafeteria, eliminates the issue of parents arranging to get their child to school earlier, and most importantly, provides schoolchildren with the proper fuel necessary for learning. "You can't feed the child's brain unless his stomach is full," said Wachs. School officials report seeing better attendance, less tardiness, fewer behavioral problems, improved performance on standardized tests, an increased probability of graduating, and higher incomes in the job market.
Each month, a child is selected to deliver the locally and organically prepared breakfast from classroom to classroom on a grab-'n'-go dolly, said Nancy Weiss, director of food services for SBUSD. In the approximately 20 minutes designated to having breakfast, teachers instruct on nutrition and composting, making the morning ritual a forum for interactive learning. At the heart of this program is teaching kids to "eat to live, live to learn, and learn to eat," noted Weiss. Currently, 24 feeding sites span the districts, and more are to come.
Whereas food banks provide actual food and do so in emergency cases, No Kid Hungry focuses on structural changes within similar organizations, which Wachs believes complements many food banks' roles in supplying emergency food. These organizations also serve an important role as a key point of contact with the clientele they serve.
Over the last several years, the U.S. has witnessed a significant increase in child food-security (the federal government's method for measuring childhood hunger), and it has leveled off at a very high level because No Kid Hungry believes efforts to connect children with food programs are proving effective, Wachs elaborated. So although hunger has, to an extent, mirrored the economic conditions of this country, programs such as No Kid Hungry continue to make strides toward ameliorating those circumstances.
Attendees and speakers at Thursday's event included Bridges, Weiss, Mayor Helene Schneider, Congressmember Lois Capps, spokesperson Laura Burton Capps, Superintendent David Cash, County Supervisor Janet Wolf, McKinley Principal Tia Blickley, and young actress Amandla Stenberg.
To find the nearest site serving summer meals, text Food4Kids to 877-877.
For more information on the No Kid Hungry campaign and to discover how you can help, visit www.nokidhungry.org.