Dance
A Review of the UCSB Dance Company
At Center Stage Theater, May 30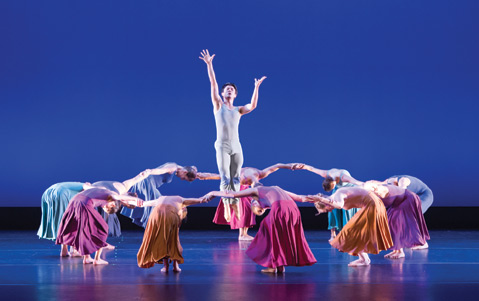 Out of darkness floats the throaty warble of woodwind. The sound reverberates and repeats. When the lights come up, they catch things in mid-action: A flock of female dancers in floor-length dresses sway and undulate in unison upstage; two bare-chested men spin away as if swept up in an eddy.
The work is "Deep Currents," choreographed by UCSB faculty member Nancy Colahan and set to a gorgeous, layered score commissioned from composer William Pasley. Like so much of Colahan's work, "Deep Currents" is carried along on a lilting idiom of over-curves, sweeping circles, and soft arrival points. Yet in this performance as never before, the 12-member UCSB Dance Company appeared fully professional: a tight ensemble, focused, assured, and fully immersed in the essence of the work.
It was a powerful opening to a powerful evening of dance from these senior dance majors, whose Center Stage program included works by department faculty — from Valerie Huston, the somber female solo, "Black Earth"; from Christopher Pilafian, "The Space Between Us," a searching duet in which man and woman reached for each other and narrowly missed, embracing empty space instead.
Jerry Pearson's 1999 group work "Strange Boat" got new treatment from director Delila Moseley, who swapped the original flowing white costumes for sleek black bike shorts and more exposed skin for a sexier — though still playful — result.
One of the most effective ways this department can prepare its students for careers in professional dance is to expose them to a wide range of repertory, including works by guest choreographers and American modern dance greats. This year, the company took on "A Drowned Glimmer of Innocence" by contemporary New York dance maker Peter Pucci: a theatrical ensemble set to the stark tones of Philip Glass and medieval chanting. Here, dancers in loose white pants and tunics marched downstage in rows, gazing directly at the audience with impassive faces as they repeated a series of inscrutable hand gestures. In contrast, they rose to ecstatic heights in "Shaker Life" — Donald McKayle's 1972 masterpiece set to the Voices of East Harlem — grinning and whooping as they dove into this happy riot of high knees, splayed hands, and communal celebration. Finally, they grounded themselves in the gravitas and austere angularity of José Limón's 1967 classic, "Psalm."
With this program, the 12 members of this year's UCSB Dance Company proved their technical versatility — a skill that's crucial for success in today's dance world. Even more importantly, they showed their ability to dive deep into the matter of each new work, seek out its spirit, and bring it alive onstage.