Arts & Entertainment
Raising Women with Women Float
Maureen Foley's New Novella Stars Carpinteria, Aquaphobia, and Women on Verge of 30
Like a fine red wine, sometimes all it takes is time to turn something good into something great. Such is certainly the case with Carpinteria-based author Maureen Foley's new book Women Float. For the past 15 years, the novella remained unfinished and dormant until it was finally revamped, injected with greater depth and emotional experience, and published by the Chicago Center for Literature and Photography on May 27.
Foley, who lives locally with her husband and children, enjoys experimental poetry and finds great contentment from the breezy Southern California lifestyle that she has always known. The landscape and climate play a large role in her family heritage, as she currently resides on a 100-year-old avocado ranch in a home that was passed down through six generations.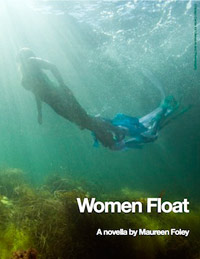 "I hope the book is fun for local readers," said Foley in a recent interview, explaining that she believes her constructed vision of Carp should be easily identifiable, since she modeled key locations in the story with specific buildings in mind. "The place becomes a character in and of itself," said Foley. "I aspire to create a vision of the place and to transport readers to the place that I love so much."
Foley even laced some of her own life experiences into the plot, such as when mysterious, anonymous postcards keep arriving. Unlike in her real life, though, the sender in the story is eventually identified. For Foley, resolving the mystery in her book provided a sense of finality to the experience of her past.
Foley first started working on the book when she was just 23 years old, fresh out of college, and interning for The Santa Barbara Independent. The vision for the plot came from Foley's experiences teaching swim lessons at the community pool in Carpinteria, where she liked teaching adults more than kids because the dynamic is so different.
She became especially interested in women about to enter their 30s, a threshold that presents uncertainty in the face of new changes and challenges. Frequently, psychological barriers and traumatic past experiences cause aquaphobia, a subject that is examined through the characters in the novella. Foley hopes to address these female, pre-midlife challenges in an empowering way that will make women realize their abilities.
The book was put on hold while Foley attended graduate school, but she revised it a few years ago, more than a decade later. Over the years, as her worldview grew to accommodate many new experiences, Foley's writing adapted quite a bit. She explained, "My older perspective has made the book richer."
Waiting the decade also gave the book's main characters realism and complexity. For instance, at 23, Foley would not have been able to identify as much with the book's main protagonist, 29-year-old Win. After having a baby and hitting that 30-year mark herself, Foley realized that many of the things in the original manuscript felt inaccurate, and she was better able to write from a more mature position. Said Foley, "Naivety makes you take risks, but it is not always the way the world works."
Altogether, Women Float is a girl power anthem for real, everyday women. It shies away from any sort of artificiality, and seeks to represent the depth and complexity of female relationships, both hetero and homosexual, in their truest nature. "It's the anti-Baywatch, or the anti-Kardashians," laughed Foley.
While pop culture plays a prominent role in modern life, Foley says that female relationships are all too frequently misrepresented in the media. In particular, the intense societal focus on female-female relationships tend to make them abstract and unreal. "It doesn't matter what her sexuality is," said Foley. "She is what she is."
For Foley, Women Float is about the challenges that the modern woman faces, such as "the struggle of aging and the balance between career versus adventure versus friendship." There is no right way to go, the book suggests, and women may have regrets no matter which way they choose. But it's a time to embrace, not despair, said Foley, who said that life is like "trial by fire, where things can change so quickly." It's a particularly unqiue time of life, too, said Foley, explaining, "Everyone is moving at a different pace in drastically different directions."
As well, Women Float takes a close look at women living outside mainstream society who are handling loss, acceptance, and relationships. "There are not enough role models" for women this age, said Foley, who believes that women are far more dynamic and capable than society — or even themselves — gives them credit for.
"Women will float," said Foley. "They are very resilient."
4•1•1
Maureen Foley will sign copies of Women Float on Friday, June 7, 6-7:30 p.m., at the Curious Cup in Carpinteria. See maureenfoley.com.