Announcement
CALM Auxiliary Ladies Present Non-Profit with Record-Breaking Annual Donation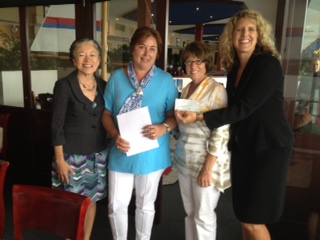 The CALM Auxiliary raised over $170,000 to benefit the critical work CALM does preventing and treating child abuse throughout Santa Barbara County. Auxiliary President Dale McCaskey and Treasurer Martha Rodgers were pleased to formally present the check at the Auxiliary's annual meeting.
The majority of the funds were raised by the CALM Auxiliary at their annual Celebrity Authors' Luncheon, Antiques & Vintage Shows, and popular Wine, Jewelry, Chocolate event, along with a few additional fundraising efforts. To date, the CALM Auxiliary has raised over $1.3 million for CALM, allowing the organization to continue its mission to prevent and treat child abuse in Santa Barbara County.
"We are so grateful to the ladies of the CALM Auxiliary for their dedication to our mission and organization," said Cecilia Rodriguez, Executive Director of CALM. "Year after year, these generous women devote time and effort into creating beautiful, entertaining, and always popular events that support our agency. We at CALM are so fortunate to be able to enjoy these events, and more importantly, we so love seeing the results of the raised funds and awareness through our clients' improvements."
The CALM Auxiliary has played an instrumental role in helping sustain the great legacy of CALM in Santa Barbara since 1969. The Auxiliary raises additional financial support and community awareness through projects and events, allowing the non-profit organization to grow and continue to serve the children and families that need help.
CALM was founded in 1970 to reach stressed parents before they hurt their children. CALM continues to be the only non-profit agency in Santa Barbara County focusing solely on preventing, assessing, and treating child abuse and family violence through comprehensive, cutting-edge programs. CALM offers children, families, and adults a safe, non-judgmental, caring, and strength-based environment to heal and increase family well being. For more information about all of CALM's services, please call 805-965-2376, or visit www.calm4kids.org.