Food & Drink
Eric and Helle Todd of Force Field Farm
Harvesting Juicy Stone Fruit, Berries, and Water Plants near Ojai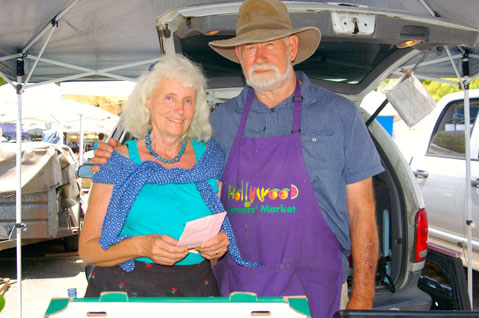 Name: Helle and Eric Todd
Farm: Force Field Farm
Location: Topa Topa Mountain range, north of Santa Paula
What They Grow: Their famous Blenheim apricots, sweet and tart Persian mulberries, Santa Rosa plums, figs, Hachiya and Fuyu persimmons, blackberries, and olallieberries.
Where to Buy: Farmers markets, including Saturday in downtown Santa Barbara.
In Season Now: In addition to a tasty supply of stone fruit and berries, the farm also sells year-round water plants, great for ponds or as indoor plants. Varieties currently include the blooming water hyacinth and water cabbage.
Their Story: Originally hailing from Denmark, the Todds have been farming in Southern California for over 30 years. One of the original vendors at the farmers market, their love of farming is evident.
"My husband loves apricots, and I've always had a green thumb," said Helle Todd. "While we originally purchased the land for aquaculture, we realized we had seven acres to grow on!"
With their farm near the river bottom, the sandy, clay soil has done wonders for their stone fruit, particularly their popular Blenheim apricots, which have a unique texture and taste.
"The clay soil gives certain flavors to the fruit that is unmatched," said Eric Todd. "The purity of flavors is amazing; you have to eat them to understand how incredible they are."
When discussing what qualities good fruit must have, the Todds agree there are three key aspects: acidity, sweetness, and structure. Their fruit has become a marker for quality and unique flavor profiles.
"It has definitely been a source of satisfaction for us," said Eric Todd. "While we were originally worried about the rocky soil, it has actually helped us produced something extravagant and delicious."
Eager to share information and samples, the Todds have enjoyed their time at the markets, working in Los Angeles County, as well, to promote their products. Enjoying the social atmosphere of the market, they are proud to be market veterans.
"The farmers market is great; it allows people to build confidence in their farmer," said Eric Todd. "We are grateful to be a part of it."