Books
Review of Janet Malcolm's Forty-One False Starts: Essays on Artists and Writers
How Nonfiction Writing Can Actually Be Literature
Janet Malcolm may be best known for highbrow true-crime books like The Journalist and the Murderer, her study of journalist Joe McGinniss's duplicitous relationship with convicted killer Jeffrey MacDonald. But even when she turns her hand to material with considerably less dramatic appeal, readers will be rewarded with the many pleasures of her well-wrought, often satirical prose.
When Malcolm says of the art critic Rosalind Krauss, "She infuses fresh life and meaning into the old phrase about not suffering fools gladly," she could just as easily be speaking of herself. "I don't know whether journalists are more aggressive and malicious than people in other professions," Malcolm said in a Paris Review interview. "We are certainly not a 'helping profession.' If we help anyone, it is ourselves, to what our subjects don't realize they are letting us take." Indeed, anyone who opens himself or herself up to Malcolm's scrutiny should not expect to be judged lightly.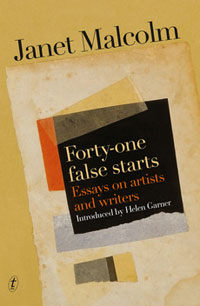 Forty-One False Starts is, as its title suggests, 41 possible ways of beginning an essay. The subject is artist David Salle, a former wunderkind who, at the time the essay was written, was slipping into middle age with a sorely diminished reputation. While Malcolm is clearly an admirer of Salle's work, she spends a good deal of the essay citing criticisms by his detractors. Yet because she has looked at the artist and his work through so many different lenses, one comes away from the essay with a fuller view of Salle's work than could have been found in any mere puff piece. Here is the penultimate "false start" in its entirety: "To write about the painter David Salle is to be forced into a kind of parody of his melancholy art of fragments, quotations, absences — an art that refuses to be any one thing more interesting, beautiful, or sobering than another."
Clearly, that's a description of Malcolm's method in this essay, but her overall aim as a critic is quite the opposite. In a world where pastiche and irony rule, she does the hard work of evaluating Salle, and every other artist and writer discussed in the book, based on evidence rather than reputation.
In addition to the essay on Salle, Forty-One False Starts includes fine chapters on J. D. Salinger, Diane Arbus, and the 19th-century British photographer Julia Margaret Cameron. The most ambitious essay is "A Girl of the Zeitgeist," a 75-page piece on the influential New York magazine Artforum and Igrid Sischy, its editor for most of the 1980s. The essay frontloads 20 pages of interviews with past contributors to the magazine, the majority of whom dismiss Sischy, so by the time readers meet her, we, too, are prepared to dislike her. Instead, Malcolm's profile makes her seem like a beacon of honesty, integrity, and hard work in a world that is as corrupt and inbred as a corporate office place.
There are a few weak chapters. An essay on Charleston house, the home of Virginia Woolf's sister Vanessa Bell, goes on too long, as though Malcolm were straining to reach a word count. An introduction to the work of Gene Stratton-Porter has some historical interest, but Malcolm is too keen a critic to find much to praise in the work of this largely and, based on her comments, justly forgotten novelist. And an overview of the Gossip Girl novels gives the books more credit as social critique than they probably deserve.
However, even in her least significant pieces, Malcolm is a master stylist. Though she describes herself as a journalist, there are surely only a handful of journalists who write as well as she does. As Ian Frazier notes in his introduction, "Over and over she has demonstrated that nonfiction — a book of reporting, an article in a magazine, something we see every day — can rise to the highest level of literature."
Nonfiction as literature? Yes, there may be something in that.