Theater
The Tempest at Center Stage Theater
Lit Moon Delivered Its Best Tempest Yet on Sunday, July 7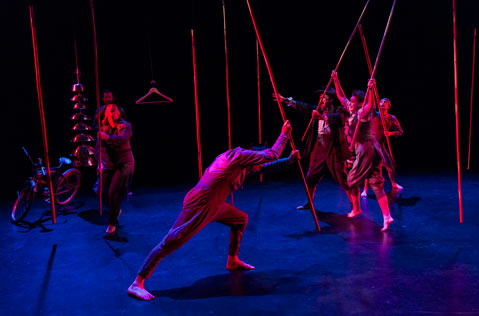 What young woman faced with introducing a new boyfriend to her father would not wish for the command of language that Miranda shows in Act 1, Scene 2, of The Tempest when she says to Prospero, "O dear father, make not too rash a trial of him, for he's gentle and not fearful." Prospero loves his daughter, and he will learn to love young Ferdinand, his soon-to-be son-in-law, but not until he has heard many more such entreaties, not only from Miranda, but also from his attendant spirit, Ariel, and even from his indigenous slave, Caliban. In this excellent new Lit Moon production of the play, which will travel to the Balkans for a summer festival tour beginning this week, the broadest implications of Prospero's path from revenge to redemption are explored with wit and grace, melding respect for the Shakespearean text with an artist's eye for theater as image and a choreographer's feeling for the physical properties of bodies in motion.
As Prospero, Stan Hoffman is at the peak of his natural affinity for Shakespearean roles. He has been an excellent technician in speaking the verse all along, and his portrayal of Gonzalo in this same production provides a fine example of this. As Prospero he grows bolder and more immediate with each act, building to a series of brilliant speeches marking each of the play's three apparent endings. As Miranda, Marie Ponce captures both the abstract amazement of a girl who has lived in near-total social isolation since early childhood, and the practical confidence of a princess who is comfortable negotiating with her father, the king.
Perhaps most interesting of all the daddy issues in this Tempest are those that link Prospero with Ariel. As played by Sara Jessica Reynolds, Ariel is much more than a fantasy figure drawn from legends and fairy tales; she is a living symbol of the gap between patriarchy and the various real-world populations whose interests are too often subordinated to those of their masters. This is an Ariel with the sass and directness of the help, the style and mystery of the sexually other, and the solidarity and righteousness of the working class. When Reynolds picks up an acoustic guitar to lead the audience in a chorus of "Full Fathom Five Thy Father Lies," at the end of the night, Shakespeare's song has taken on all the dynamic allure of popular folk protest music.
Add to these successful elements several other strong concepts and performances, and the result is a production that rewards with some new pleasure at every scene change. Matt Tavianini and Michael Bernard are thoroughly entertaining as the buffoonish Trinculo and Stefano, and their doubling as Alonso and Sebastian brings both interesting shadows to their portrayals and a hefty dose of slapstick excitement to the finale, in which they use quick changes of headgear to simulate dialogue between their different roles. Nolan Hamlin makes an effective romantic interest as Ferdinand, and the couple's tender appearance playing chess in Act 5 comes near to having the same impact on the audience as it does on the astonished Alonso, who has feared that his son Ferdinand was drowned in the storm. Tying the whole thing together, weaving in and out among the strands of plot even as she shimmies through the set's forest of hanging bamboo, Victoria Finlayson offers brilliant interpretations of both Antonio and the crucial role of Caliban and continues to exemplify the Lit Moon aesthetic, equal parts risk-taking and reverence for the great art of Shakespeare.