Visual Arts
Specimen at the Arts Fund Gallery
Odd Objects Curated by Ted Mills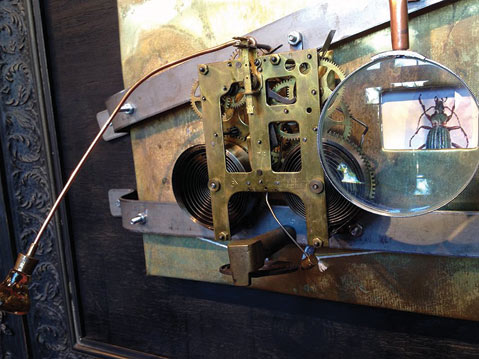 As Alice of Wonderland said, "If I had a world of my own, everything would be nonsense. Nothing would be what it is, because everything would be what it isn't" — and that was before the Walrus began discussing those shoes and ships and sealing wax. Alice would feel right at home at the Arts Fund Gallery exploring the Ted Mills–curated exhibition Specimen, which is filled with oddities and curiosities by some of the shining lights of the Santa Barbara assemblage art scene, with work by such artists as Dug Uyesaka, Dan Levin, Tracy Beeler, Jim O'Mahoney, Sue Van Horsen, Norm Reed, Michael Long, Ethan Turpin, and Mills himself, along with special audio art by Jonathan Smith.
The small Arts Fund Gallery space seems to have grown from a magic elixir, as each of the 11 artists has created his or her own peculiar microcosm, filled with encyclopedic objects whose categorical boundaries have yet to be defined. Joseph Cornell is frequently cited as an influence on the assemblage arts, but these pieces seem derived from the cabinets of curiosity, those Renaissance precursors to museums and to the art collections of European kings. Here, each artist has created worlds of wonder that range from the sentimental to the grotesque. Discovered, displayed, modified, and fabricated objects fill these works, all carefully juxtaposed within tableaux, unique picture frames, and pieces of furniture. They invite the viewer to fall into their rabbit holes of muted chaotic wonder.
In the 12 collected works of Sue Van Horsen, lightbulbs, eyeglasses, and magnifying glasses provide a level of attention that creates a brilliant second layer of viewing, which leads us to another remarkable aspect of the works displayed in Specimen: Viewing devices abound, as do keys and clues, both figurative and literal. This exhibition is about looking as much as it is about things to be looked at. "Wheel of Flies" by Norm Reed pulls the eye via a large magnifying glass over a drawing of a fly. The magnifier is bolted inside what appears to be a splayed-out clockwork automata including a tightly wound flywheel — hence the title's plural play on words.
According to curator Mills, Jim O'Mahoney and his wonderfully offbeat Santa Barbara Surfing Museum inspired this exhibit. O'Mahoney's pun-filled work features small change that is really small and a graphic roadside attraction.
Sculptor Tracy Beeler's "Human Jerky and Other Delights" provides the darkest vision of the show. Here you'll find a pair of ram horns painted red that would please Hellboy and the aforementioned human jerky, both of which contribute to the distinctive carnival-sideshow atmosphere. Step right up and see Michael Long's "Percy the Carrier Chickadee" preserved under glass and complete with backpack and aviator glasses. Stories abound here as you contemplate the origins of the embalmed cobra or the tiny baby saddle shoes with one missing lace.
There's more to see, including Dan Levin's waterfall of objects in "Contents of Calder's Cabinet," Mills's own antique newsstand that includes fake magazines like "Wood Chipper Weekly" and "Drudgery Magazine," a stereoscopic display by Ethan Turpin, and Dug Uyesaka's cornucopia of personal and familial curiosities. Driving home the point of the exhibition are brilliant short bursts of narrative audio created by Jonathan Smith. They instantly evoke the imaginative existence of objects not present and/or apocryphal, including a lead-lined box containing a radioactive piece of Chernobyl that you should open for "no more than three seconds." This audio part of the exhibit proves our irresistible fascination with objects and their stories.
Despite the cacophony of images in Specimen, one simple piece stands out as the most moving. "Morose" by Uyesaka depicts a broken baby elephant puppet whose head rests upon a red stone displayed under glass. Its sense of lost childhood and forgetfulness shows how a few simple objects in the hands of an artist can move our emotions. n