Cover Story
The Guns of Santa Barbara County
A Look at Gun Culture and Crime from Carp to Santa Maria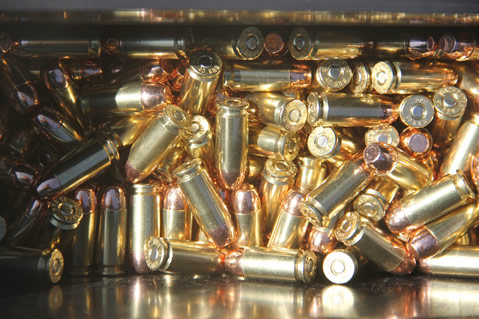 Convenient clichés aside, guns do kill people ​— ​especially in America, where about 30,000 people die every year from gun-related incidents. That statistic, of which suicides regularly account for more than half, has remained relatively similar for nearly two decades, as have the 70,000 other people who are shot and survive in the United States each year.
But recent high-profile incidents, such as the Sandy Hook Elementary School shootings, and the steady stream of bullet-riddled violence dominating our daily headlines are making Americans everywhere rethink our culture's fascination with the loaded gun, which costs American taxpayers more than $100 billion per year in law enforcement, legal, and medical bills. As such, the country's collective microscope is feverishly analyzing what can be done, from enacting stricter laws to criticizing a gun-glamorizing media to questioning whether we could have more effective means of dealing with mental-health issues.
Though gun violence is a fairly rare problem in Santa Barbara County, we are not immune. One man was murdered in the City of Santa Barbara earlier this year, there have been more than two dozen gun-related incidents in other parts of the county so far, and numerous illegally owned or suspiciously involved guns are confiscated weekly by the authorities. We also bore witness to our own mass-shooting incident in January 2006, when a deranged woman killed seven people in a postal facility on Storke Road in Goleta before turning the weapon on herself.
Given the national uproar following Sandy Hook, The Santa Barbara Independent decided to take a deeper look at the gun culture of Santa Barbara County. We queried every law enforcement office for records of gun-related incidents, interviewed top officials about what they were doing and why, and requested statistics from hospitals, the California Department of Justice, the U.S. Forest Service, and other entities. With very few exceptions, all agencies were happy and even eager to share their data. We also dove into the recreational side of shooting, and one of our reporters even went through the official process of purchasing a gun of his own.
What follows is a collection of articles, tables, and graphs about what we discovered. In short, Santa Barbara County appears to have a generally responsible population of gun owners as well as law enforcement leaders who respect those government-granted rights while working hard to ensure that firearms don't wind up in the wrong hands. The serious incidents are few and far between, and we expect that continued vigilance should keep it that way.