Announcement
SEE International Provides Sight Repairing Training to Ophthalmologists from Across the Country
Doctors Will Bring Skills Overseas on Behalf of SEE International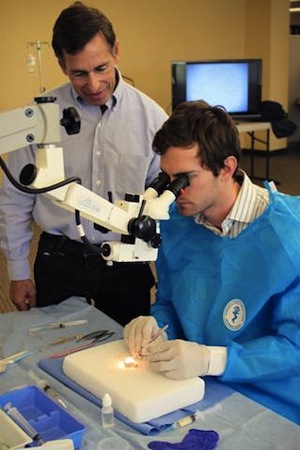 The training related to Manual Small Incision Cataract Surgery and taught recent developments in the clinical management of cataract extraction in humanitarian settings. Cataracts are the leading cause of blindness in developing countries.
Upon conclusion of the training program, participants should be able to explain the latest developments in Manual Small Incision Cataract Surgery (MSICS), participate with a mentor in low-technology MSICS in humanitarian setting, and demonstrate skills needed for proficiency in this procedure. All participants are ophthalmologists who have traveled or plan to travel on behalf of SEE International.
WHO: Eleven doctors (ophthalmologists) from across the country, and SEE International facilitators/representatives. Trainers include Dr. Jeff Rutgard, La Jolla, California; and Dr. Baxter McLendon, Charleston, South Carolina.
COURSE DETAILS
This course was organized into didactic and wet-lab sessions, covering the theoretical and technical components of Manual Small Incision Cataract Surgery. The didactic lecture presented by the faculty featured a MSICS training module designed by Madhavi Ghanta, MBBS, DNB. Each participant received a course reader with the course curriculum and a CD with the course content.
In the wet-lab, multiple teams worked simultaneously at work stations equipped with microscopes, instruments and training tissue. Faculty members demonstrated the technique and rotate, supervise and assist the participants. Upon conclusion of the wet-lab session, an open forum followed wet labs with discussions designed to stimulate faculty and participant in interaction.
About SEE International
Surgical Eye Expeditions (SEE) International is a nonprofit, humanitarian organization that provides medical, surgical, and educational services by volunteer ophthalmic surgeons with the primary objective of restoring sight to disadvantaged blind individuals worldwide. www.seeintl.org