Dance
Dance, Physical Theater, and More
ADaPT Fest Back for a Second Year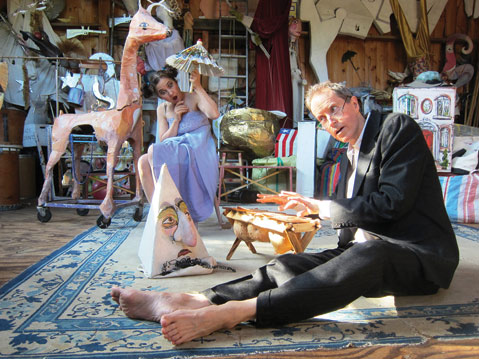 Last year, it arose in California, and then spun off to Austria, gathering force as it went. This year, it popped up in Brooklyn and is now making its way west. It's not a storm, exactly, though it shares a similar energy and unpredictability. It's A Dance and Physical Theatre Festival — ADaPT Fest — and it's now in its second year.
ADaPT Fest is produced by Santa Barbara artists and married couple Misa and Stephen Kelly, but it's a deeply collaborative festival that by its nature ropes in the talents and contributions of artists from around the world. This year, ADaPT Fest events include mixed-bill performances, outdoor happenings, master classes, meet and greets, and evenings of experimental dance and art. The pitfall of producing such a varied festival: It's challenging both to pull together and to sum up. The advantages: Pretty much everything else.
"We're replacing the model of competition with one of collaboration," notes Misa Kelly, who sees the future of the arts as a giant open network of creative alliances, fueled by a collective belief in each other's work. Misa sees herself as a "working-class artist." For the past few years, she has striven to establish this paradigm of international collaboration and to provide opportunities for other artists in her position to showcase their work outside of their immediate communities. ADaPT is the centerpiece of that paradigm.
This year, the festival draws together artists from Austria, Slovenia, Oregon, New York, and California and offers a three-city tour, taking place in New York, Santa Barbara, and Los Angeles. Participants get a full and rewarding performance experience — far more than a one-night show — as well as the benefit of extended time for collaboration and mutual inspiration, what Kelly calls "cross-pollination." For the communities where the festival touches down, there's an infusion of creative energy, the excitement of new, experimental work from near and far, and plenty of chances to chat and play. In other words, everyone wins.
Those interested in seeing a range of work in just one evening should set their sights on Center Stage Theater on Friday, July 26, or Saturday, July 27. Both Program Jules and Program Arthur, as the evenings are dubbed, begin at 7:30 p.m. with a social dance demonstration (audience participation is encouraged!), then segue into a more traditional evening at the theater — though the works you'll see will be far from traditional. Among them is "Unzipped," a female duet and meditation on body issues. (Parental discretion is advised.)
If getting into the action is more your thing, there's a chance to learn from cutting-edge improvisational physical theater group The Raving Jaynes on Saturday, July 27, at 9:30 a.m., also at Center Stage, and a vocal improv workshop on Sunday, August 4, lead by L.A.-based singer and performance artist Rainbow Underhill.
The festival's subtitle is "a bi-coastal event celebrating the movement arts and emerging genres," and the latter aspect gets explored the following weekend, Friday, August 2-Saturday, August 3, when musicians and dancers, filmmakers and aerialists, and visual and installation artists gather at the Fishbon Pescadrome for Cut the Edge, an evening of experimental art, interaction, and exploration. Last year, this event was a highlight of the festival, so this year, it's expanding to two nights.
ADaPT is an acronym, but it's also an apt word for a festival that's constantly adjusting to an ever-changing world where technology is increasing the ease of cross-cultural conversations, where the boundaries between art forms continue to erode, and where artists have to stay on their toes in order to survive and thrive. It's in response to all of these changes that ADaPT was born, and the festival continues to adapt.
4•1•1
ADaPT Festival 2013 runs now through Sunday, August 4, in Santa Barbara. For a full calendar of events, call (805) 569-0389 or visit adaptfest.com. To learn more about the Kellys' work, visit artbark.org.