SCHOOL'S NOT ALL THE WAY OUT: One of the best reasons to go to school in this midsummer swelter of wished-for, blissful nothingness is for Hell's sake. Sings Like Hell, that is. The great and unstoppable monthly concert series has taken up residency in the embracing ambience of Santa Barbara Junior High's Marjorie Luke Theatre (721 E. Cota St.), while the Lobero gets its half-year-long facelift. Last month, the "Hell at the Luke" era kicked off to the mighty grooves of The Blasters. This Saturday, the spotlight turns to an old favorite of the series, David Lindley, he of the many and storied instruments, musical styles, and questionable wardrobe choices.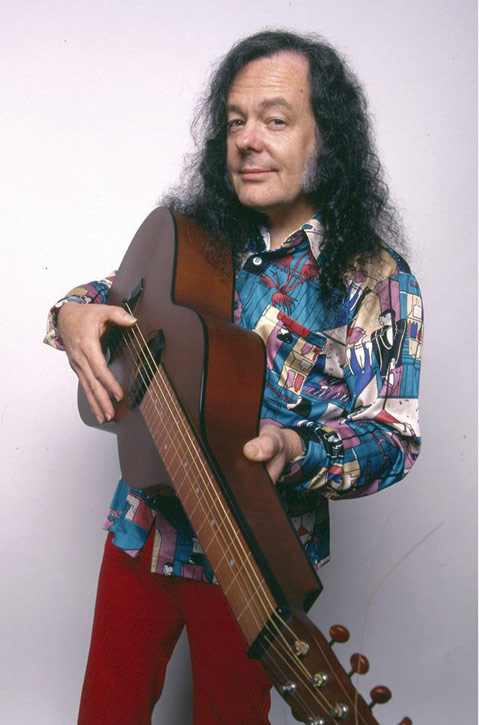 An artist who seems to play very well in the township of Santa Barbara, Lindley has worn many hats, of which we were reminded when he played the Lobero two years ago. Yes, he gained public prominence as the right-hand lap-steel foil for Jackson Browne in the '70s — supple and melodic to the degree that he was almost like Browne's singing partner — and was a session player to countless others while also building up his strange, charismatic solo career. But Lindley also put out some still-compelling projects, as both musicologist and collaborating musician, through investigations into the inspiring traditional music of Madagascar and Norway, with fellow globe-trotting, guitar-wielding pal Henry Kaiser. So now Lindley brings his world/our world to the Luke. Expect to have high expectations met.
JAZZ BLUES: Incurable jazz fans are people, too. We're a long-suffering bunch of muttering undergrounders, who gaze in teary longing at Santa Barbara's ample supply of concert and club offerings in the line of classical and pop, feeling forever underserved. But jazz does occasionally sneak into the live-music mix. Last Sunday afternoon at SOhO, for the Santa Barbara Jazz Society's monthly gathering, we got a hearty dose of strong mainstream jazz courtesy of Orange County–based alto saxist Bruce Babad, in the clean-burning conceptual machinery of his wonderful recent album, A Tribute to Paul Desmond.
Thus far, 2013 has been lean but speckled with wonderful moments — i.e., the triumphant Wynton Marsalis' Jazz at Lincoln Center Orchestra show at the Granada and the double-header wower of the Brad Mehldau Trio and Bad Plus at the Lobero. What with the Lobero going dark through 2013, jazz won't lighten that room until next year.
Meanwhile, UCSB's new Arts & Lectures season has gone public, and it's another embarrassment of cultural riches for our community. Yet, once again, jazz is a diminishing return, as it has been for three seasons running. We can be thankful they included one token jazz show — the ever-fine S.F. Jazz Collective — to match last year's single jazz concert ration. (And that's compared to none at all the year before). At least the holy word "Jazz" does appear in the A&L program, under the "Jazz and Blues" series, but still something is amiss when an upstanding university doesn't lend more energy and public advocacy for America's greatest art form.
On the upside, Santa Barbara's left-end-of-the-radio dial continues to be nicely fortified jazz programming, including (but certainly not limited to) diverse jazz shows on KCSB 91.9 FM by straight-ahead jazz champion and radio veteran Stanley Naftaly, Marta Ulvaeus (Roots to the Source), and Steve S. (Joyful Cosmos), and a handful of fine shows on KCBX 89.5 FM, especially Fred Friedman's Jazz Liner Notes and Neal Losey's weekday morning jazz slots (though it has gone more eclectic of late).
End rant. Bring on the swing!
TO-DOINGS: Current and future fans of guitar trios owe it to themselves to check out a return visit to SOhO by the ripplingly good New West Guitar Group, on Monday, July 29.
ECM EARWORM OF THE YEAR AWARD: … goes to the hauntingly lovely, harmonically slippery "All I Ask of You," by Quercus (ECM), on which the wise and seasoned British singer June Tabor colludes beautifully and atmospherically with reedist Iain Ballamy and pianist Huw Warren. Hear it and weep. Joyfully.