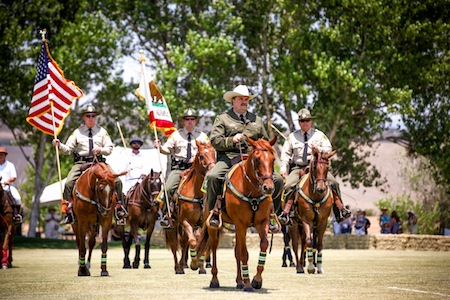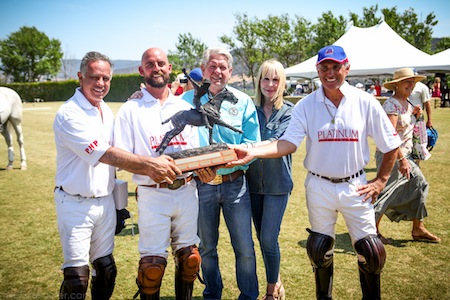 With over 500 in attendance, the fundraiser for local charity, People Helping People (PHP), improved on last year's financial results by twenty percent.
Nancy Hunsicker, event co-chair, said "We are extremely gratified by the outcome. We are proud to have the support of our community for the work PHP does to help those in need of life's basic necessities. Funds raised from the Polo Classic will help to buy food, prevent homelessness, protect families from violence, and support mentoring programs for youth."
In addition to local guests, event records show that attendees came from as far south as Los Angeles and as far north as Paso Robles. Fahim Farag, PHP Associate Development Director, said that PHP was grateful to KCOY T.V. for promoting the Classic via its "Million Dollar Community Investment." Farag said, "the attractive ads KCOY created for us very effectively increased our attendance from North County and beyond."
The Polo Classic featured a four chukker (period) game with defending champion Team Platinum Performance facing new comer Team Happy Canyon. The defending champ, with hall of farmers Memo and Carlos Gracida and local pro T.J. Barrack in the saddle, repeated as winners, scoring an 8-6 victory. Team Happy Canyon included Jose Denoso, Mariano Obregon, and Joel Baker.
Both sides of the polo field buzzed all day with excitement from the fast paced polo played on a compact field, hat contests for the ladies and para charity raffle wagering.
Winners of the VIP hat contest were Pat Hoffman (most classic) and Linda Johansen (most dramatic).
Two hundred fifty VIP guests were treated to a sparkling wine reception hosted by Fred Steck of Rancho Latigo which was followed by luncheon served in a beautifully decorated tent with table center pieces furnished by J. Woeste in Los Olivos. The delicious reception food and lunch were prepared and served by Trattoria Grappolo.
Mila Hart, event co-chair, said that an event of the magnitude of the Polo Classic would not be possible without the support of an active event committee, many other key volunteers, VIP Patrons, and especially the underwriting sponsors including Platinum Performance, Team Happy Canyon patrons (Joan Bradshaw and Fred Gallo, Nancy Englander and Harold Williams, Phyllis and Michael Hennigan, and The Webster Family), Montecito Bank & Trust, Santa Ynez Band of Chumash Indians, Lisa Seger Insurance, MDC Stirrups, Graphic Systems, Cinque Stelle Winery, J. Ludlow Vineyard, Quail Crossing Vineyard and UVA Design Studios.
Hart said that with two successful events in the books, the public can look forward to a third installment of the Polo Classic. The event committee has tentatively selected Saturday, July 19th for the 3rd Annual Santa Ynez Valley Polo Classic.
For more information about the Classic and the beneficiary, People Helping People visit www.syvphp.org.