Arts & Entertainment
The Timeless Allure of The Magic Flute
Music Academy of the West Brings Acclaimed Opera to the Granada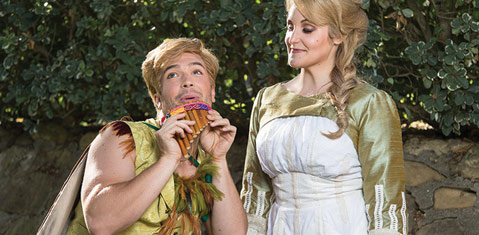 Everybody loves The Magic Flute. It's one of the most produced operas in the world and one of the most accessible, with magical effects, fairy-tale characters, and a soaring score that dazzles and delights.
But what, exactly, is it about?
"It's a surprisingly complicated question," said David Paul, who is directing the Music Academy of the West's new production, which runs Friday night and Sunday afternoon in the Granada Theatre. "There are a lot of storylines, themes, and ideas in play."
Indeed, although it was written for a large audience (as opposed to the cultured few), The Magic Flute is hardly a straightforward, easily digestible tale. Rather, composer W.A. Mozart and librettist Emanuel Schikaneder created the sort of allegory that can be (and has been) interpreted in countless ways.
"The inconsistencies that people attribute to the libretto are the very things that get children excited and make adults think," said Warren Jones, who is conducting the production. "I've always felt that the best thing we can do [as artists] is to get people to walk out thinking, 'What did that mean? How does it relate to me?'"
Okay, but … some hints, please?
"It's a comedy of healing, of bringing together, of progress," said Paul, who staged the Music Academy's critically acclaimed production of Stravinsky's The Rake's Progress last summer. "It is full of sincerity and full of laughter."
It's also about the power of ritual. In an opera full of vivid characters (including the evil Queen of the Night and the everyman Papageno), the central figures are Tamino and Pamina, young adults on the brink of maturity. To deserve one another and the opportunity to assume positions of prominence in their society, they go through a series of trials in which they prove their commitment to a philosophy of enlightenment.
Their journey closely reflects that of the Masonic order, of which Mozart was a proud member. But don't expect this production to be full of overt Masonic symbolism.
"It isn't an opera written for Masons," Paul noted. "You don't have to know [about Masonic beliefs] to enjoy or understand it. It's about the ideals of Masonry, such as wisdom and learning and rational thought.
"It's a spiritual opera, but it's a different kind of spirituality than what most people practice," he added. "The chorus has the most to say about this. There's the idea that if you become a wiser, more rational person, that brings you closer to the gods because you are more like the gods."
And how did Mozart portray that idea in music? Jones cites an example from the score.
"The other night, we rehearsed one of the piece's big choruses," he said. "You look at that music and there are probably five chords that are used interchangeably, in various progressions. It is almost stupidly, childishly simple music. And yet it has the most amazing power! I'm just taken away by it every time I do it. For me, the simplicity of it is a huge appeal of Mozart."
"He really broke a lot of operatic conventions of the period," added Paul. "Many of the arias feel like stream of consciousness, with the characters saying what they're thinking. That's very exciting for a performer, and we have an exceptionally talented cast."
So what will this mythic world look like this time around?
"When I first saw the designs, what I was taken by was the fact there is an amazing lack of straight lines," Jones said. "There are a lot of curves. You don't know what's around the next corner. I love that because our paths seldom follow straight lines."
"One of the most challenging things about this opera, from a design perspective, is that [almost all the action takes place] in the night," Paul noted. "From the beginning of the second act until the very end of the opera, they're in underground trial chambers.
"We're trying to embrace in the design a journey toward light. There is a path; there is a goal. We're going to suggest that visually. There are a lot of windows in this production. When you see a window, you hope that light will come."
That journey toward the light is no less relevant today than it was when the opera premiered in Vienna in 1791. "I've adapted the spoken dialogue into English, but I haven't really changed anything," Paul said. "I don't think you need to contemporize it.
"We're trying to create a magical world, but at the same time, we're trying to make the characters as three-dimensional and human as possible," he added. "That's the reverse of what you often see: a very realistic production but an archetypal presentation of the characters. We're doing the opposite. We're trying to create recognizably human, troubled, challenged characters who are trying to become better people."
"Everyone in the opera is involved in learning," added Jones. "That's what spirituality is all about, as far as I can tell."
4•1•1
The Magic Flute will be performed on Friday, August 2, at 7:30 p.m. and Sunday, August 4, at 2:30 p.m. at the Granada Theatre (1214 State St.). For ticket information, call (805) 969-8787 or visit musicacademy.org.