Outdoors
Lawsuit Filed to Stop Otters
Fishing Groups Hope to Keep Species Out of Southern California Waters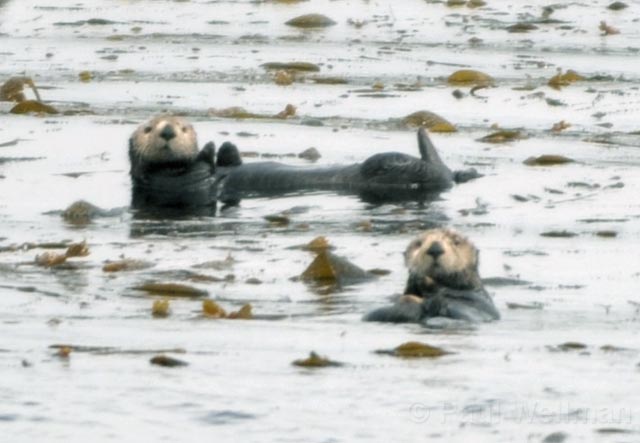 As expected, a coalition of fishing organizations has banded together to sue the federal government in hopes of keeping the southern sea otter out of Southern California waters.
The lawsuit against the U.S. Fish & Wildlife Service — which, due to previous lawsuits from the environmental community, recently ended the 25-year-old "translocation" program that was supposed to move otters who swam south of Point Conception far offshore to San Nicolas Island — was filed on July 30 by the Pacific Legal Foundation (PLF). The property rights firm is representing the California Sea Urchin Commission, the California Abalone Association, and California Lobster and Trap Fishermen's Association, and the Commerical Fishermen of Santa Barbara, all of which believe that an expanded otter range would be a death knell for their business.
The translocation program was developed in 1986 as special law to strike a compromise between environmentalists and fishermen. Under the program's provisions, otters — which are federally recognized as a threatened species and have struggled for decades to recover to sustainable levels — received the full protections of the Endangered Species Act in waters north of Point Conception. There was also a supplemental population established down south on San Nicolas Island, in the event that a catastrophic oil spill wiped out the entire Central Coast population.
In exchange for allowing that infringement on Southern California waters, where the species had not lived for years, the feds appeased fishermen by capturing any otter that swam south of Point Conception and moving it to San Nic, labeling all of those waters a special management zone. On top of that, otters that swam below Point Conception were not given full endangered species protections, so fishermen who accidentally killed the species in Southern California waters could not be federally prosecuted.
But the San Nic population never really took off, so in 2003, the Fish & Wildlife Service determined that allowing the species to spread as its only chance of survival. They stopped translocating otters around that time.
The complaint, which can be read here, argues that the Fish & Wildlife Service overstepped its jurisdiction when it ended the program because Congress had created it and Congress is the only body that could end it. "Congress adopted a law expressly requiring the creation of a management zone," said PFL attorney Jonathan Wood, "so only Congress can repeal that."
Calls to Fish & Wildlife were not returned as of press time, but Friends of the Sea Otter's Jim Curland pledged to fight against the lawsuit in defense of the federal government. His group has enlisted the legal services of Earthjustice, which will seek to sign on as an intervener in the case. "The obligation of the Fish & Wildlife Service is not to protect shellfish interests, but to help species to recover," said Curland. "Sea otters need expansion of their range to recover their population, and to limit their expansion by having a 'no otter zone' is counter to recovering the species."
Wood believes that his case is not a complicated one and should move fairly quickly, with hopes for a decision as soon as the end of the year, and possible appeals to follow, depending on the outcome. "We think it's a pretty basic case of statutory interpretation and shouldn't require a trial," said Wood. "The important thing is to stop the otters as soon as we can. If we wait until the conflict begins, it will be too late."