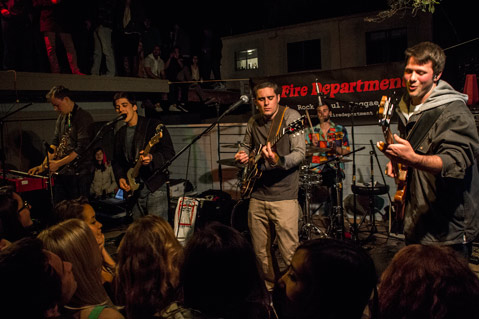 VIVA LA CANTINA: The close of July means one thing and one thing only to Santa Barbarians: the dawn of Fiesta season. Yes, starting this Wednesday, July 31, the annual celebration of all things Spanish and tequila-flavored officially kicks off at De la Guerra Plaza. Along with the tacos, cerveza, and an endless sea of confetti, 2013's Fiesta is boasting an impressive lineup of live music performances, all slated to shake down at Casa de la Guerra's Casa Cantina. Organized and curated by S.B. music-scene stalwarts New Noise Santa Barbara, the Viva La Music Stage will be lit up on Wednesday night with back-to-back performances by veritable Fiesta institution Spencer the Gardner and The Roosters. On Thursday, August 1, L.A.'s favorite Johnny Cash cover band, Cash'd Out, hits the stage. On Friday, you can catch sets from DJ Sparx and Rico DeLargo, as well as a set from Santa Barbara's own Victor Vega & The Bomb. And on Saturday, August 3, Isla Vista party boys The Fire Department heat things up as the opening act for San Fran funksters Afrolicious. All performances start at 8 p.m. and are strictly 21+. For more info about the acts, or the Casa, visit newnoisesb.org.
In case you missed it, you can also catch Spencer the Gardner at Red's on Friday, August 2, at 8:30 p.m. for Fiesta in the Funk Zone. He'll also reclaim his spot atop the De la Guerra Plaza main stage on Saturday, August 3, at 8:30 p.m.
Elsewhere around town, S.B. roots staple Cornerstone plays a late-night Fiesta set at SOhO Restaurant & Music Club (1221 State St.) with Rian Basilio and The Roosters on Saturday, August 3, at 9 p.m. Doors open at 7 p.m.
At Velvet Jones (423 State St.), Fiesta fun starts Thursday, August 1, with a kickoff party hosted by DJ Johnny Blaze. And the mixes keep coming on Saturday, August 3, when Velvet will host English dubstep artist Jakwob. An electronic force in his own right, Jakwob occupies that super jammy divide between James Blake and Alt-J, whose remix work has been honored by BBC1's music guru, Zane Lowe. In other words, bring your dancing shoes. The show starts at 9 p.m. Doors open at 7 p.m. Call (805) 965-8676 or visit velvet-jones.com for info.
THE PRE-PARTY: And speaking of dancing — and Velvet — this Thursday, August 1, brings Scottish electronica artist, producer, deejay, and boy wonder Hudson Mohawke to the Jones alongside opening act Travi$ Scott. Since signing to Warp Records in 2009 (at the age of 22!), Mohawke's gone on to collaborate with everyone from Luince to, most recently, Kanye West. His Santa Barbara set kicks off 8 p.m. and is open to all ages.
CONCERT CALENDAR: In the post-Postal Service lull, it seems now is as good a time as any to start looking forward — way forward — to the smattering of recently released acts hitting Santa Barbara venues in the coming months. Last week, we got Big Deal news from Club Mercy, who will be bringing Real Estate to SOhO September 25 and Bill Callahan to SOhO on November 15. And then there's the Bowl, which announced they'd be bringing Passion Pit and The Joy Formidable on October 26, as well as The Weeknd and Banks on September 14. Turns out, there's plenty to look forward to after all