Theater
Becoming Cyrano
Derrick Lee Weeden Takes on de Bergerac in New PCPA Production
Cyrano de Bergerac is one of those larger-than-life roles that require a certain type of actor: charismatic, technically flawless, and capable of conveying the classic play's deeply romantic vision. For its new production of Edmond Rostand's classic, PCPA Theaterfest turned to Derrick Lee Weeden. The 20-year veteran of the Oregon Shakespeare Festival, renowned for his portrayal of many of the Bard's greatest characters, will make his area debut in the role when PCPA brings Cyrano de Bergerac to Solvang Festival Theater this weekend. Below, we chat with Weeden about the casting and the experience.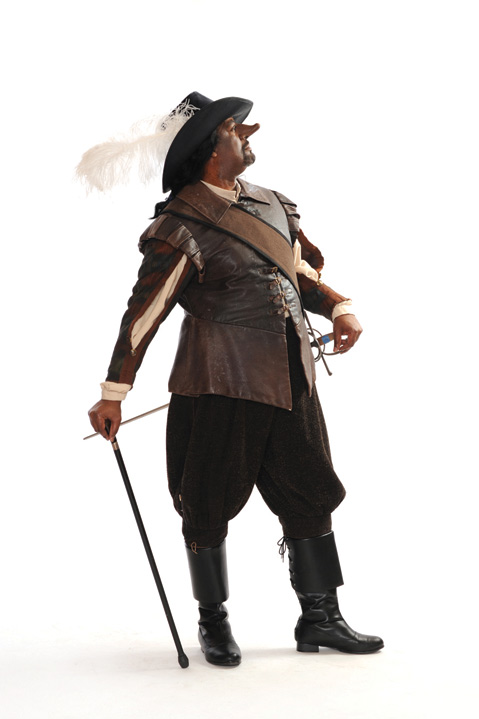 What brings you to PCPA? So many of my colleagues and a couple of my closest friends have either trained or performed here. [Artistic director] Mark Booher, who I worked with in Ashland [home to the Oregon Shakespeare Festival] in the '90s, has been talking with me for a number of ideas, throwing out hints about coming down here. Then Cyrano came up. He said he thought of me immediately and called to see if I was free. I was very excited by the possibility. I'm finally getting a chance to work with this company!
Roger DeLaurier, who is directing it, was a classmate of mine at the graduate conservatory at Southern Methodist University [SMU]. We were two of the 12 people in the class. We did two plays together while in school, but we've never worked together professionally. That also made it really enticing to me.
This is your first time playing Rostand's idealistic poet-soldier with the gigantic nose. Why? It never occurred to me to play this role. I have no idea why. When close friends heard that I was doing it, they all said, "That's perfect for you!" Obviously, I'm a classical leading man. I've spent long years doing Shakespeare and Molière and Shaw. The character is a man who is in desperate, unrelenting pursuit of fulfilling his own soul. The potential of his soul is extraordinary. He has huge passions. He's learned. He's physically capable. And he has all this longing. He lives in a society that has a lot of artifice, a lot of manners, a lot of structures. Within that, he's trying to fully be what he can be.
Besides working in Oregon, you are also a regular at the Shakespeare Theatre of Washington, D.C. How did you decide to become a stage actor, as opposed to working in television or film? I was born in Panama. My mother was born in Costa Rica and grew up in Panama. My father is American, from Memphis. He was in the military for 24 years. I'm an Army brat. I grew up the first 17 years of my life on military bases — places like Panama, Taiwan, Germany, New York City. That's probably why I love living out of a suitcase! If I'm in one place too long, I get jumpy. I love the variety. I discovered theater at the University of Albuquerque. After I got my graduate degree at SMU, I had three offers from various companies, one of which was from the Oregon Shakespeare Festival. I went there, and I soon found I was always working. The next thing I knew, I had been working there a long time, and I was having a hard time justifying stopping to put in the grunt work to break into Los Angeles. Also, this was a time when the business wasn't as diverse as it is now. I could be in the best classical repertory in the country, doing Pericles and Coriolanus, or I could be working in Los Angeles playing … what? A police sergeant? A gang banger? My dream is doing classical theater.
4•1•1
PCPA presents Cyrano de Bergerac at Solvang Festival Theater (420 Second St., Solvang) Saturday, August 17-Sunday, September 1. For tickets and info, call (805) 922-8313 or visit pcpa.org.