News
Chumash Apply to Annex Camp 4
Valley Residents and Others Concerned over Potential Development, Precedent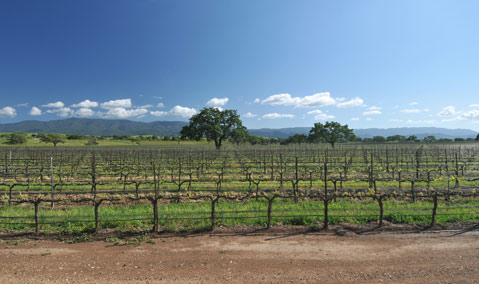 The Santa Ynez Band of Chumash Indians are now officially trying to annex the nearly 1,400-acre Camp 4 property into its reservation, which would remove it from the County of Santa Barbara's tax rolls and, more worrying to some, allow development to proceed without adhering to the county's strict planning rules. The tribe, which made many enemies in the Santa Ynez Valley by building the Chumash Casino Resort on its 137-acre reservation in 2004, bought Camp 4 from actor-turned-vintner Fess Parker for about $40 million in 2010 and submitted its fee-to-trust application to the Bureau of Indian Affairs last month.
"The tribe desperately needs housing," said Sam Cohen, who handles government and legal affairs for the Chumash, explaining that the intent is to build 143 homes on the property, not another casino. While the property currently only amounts to $84,000 per year in taxes, Cohen said that the tribe in June 2011 offered to pay $1 million per year for 10 years to the county and waive their sovereign immunity from lawsuits, so long as the county signs a cooperative agreement with them. "We'd like to work with the county to find common ground to make this work," said Cohen, who's happy that the Board of Supervisors appears ready to talk about such an agreement on August 20.
But 3rd District Supervisor Doreen Farr doesn't buy it. She is advocating loudly against such an agreement as well as any fee-to-trust annexation alongside a slew of Santa Ynez Valley organizations, including the Santa Ynez Valley Alliance, S.Y.V. Concerned Citizens, the Women's Environmental Watch, Preservation of Los Olivos (POLO), and Preservation of Santa Ynez (POSY), the latter two of which have appealed another, much smaller annexation that's been in the works since 2005. They fear that if the county is seen as working toward an agreement, the tribe could more easily get the annexation done by an act of Congress, which could overlook opposition if there appears to be a dialogue underway.
"Perhaps there are individuals in local government that feel this is inevitable, that all of the lands owned by the tribe will eventually be part of their reservation, but we are just as sure that this will never happen."
"We're adamantly opposed to fee-to-trust in the valley," said Carol Herrera, speaking on behalf of those organizations following a group meeting on Monday. "Perhaps there are individuals in local government that feel this is inevitable, that all of the lands owned by the tribe will eventually be part of their reservation, but we are just as sure that this will never happen." She's proud of the 10 years that valley residents spent on their community plan and doesn't want to see it go to waste. "If the land is put into trust, they have a sovereign right to proceed with their land as they choose and do anything they want," she said. "We've got really stringent rules, and they could easily be circumvented by putting the land into trust."
Also concerned with the application is the California Coastal Protection Network's Susan Jordan, who is a veteran of large-scale planning and environmental issues across the state but a relatively new player in the Camp 4 debate. "I view this as a county and statewide land-use issue, and this is a precedent-setting action, so everyone needs to be very careful," said Jordan, who worries what the tribe may try to do if it ever succeeds in purchasing the 1,600-acre Gainey Ranch, located adjacent to the reservation, or perhaps even properties on the Gaviota Coast. "I view them as developers, and that's okay, but I have spent the last 20 years making developers do the right thing up and down the coast, and that's what this is about."
Cohen understands that opposition exists but says the tribe remains confident. "We think that the Bureau of Indian Affairs is very responsive to fee-to-trust for housing requirements," said Cohen. "The tribe's not going away."