Food & Drink
The Greatest Thing Between Sliced Bread
Talking Shop for National Sandwich Month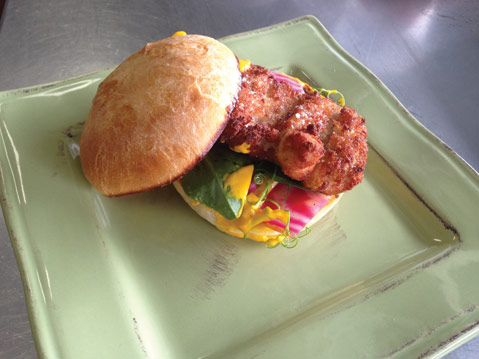 August is National Sandwich Month (yes, National Sandwich Month is a thing), and in celebration of this important designation, I decided to learn a little bit about sandwiches — what separates the merely good from the downright magical. So I went straight to the source: The Shop Café. The little Milpas gem traffics in perfect sandwiches, and co-owner Dudley Michael was more than happy to wax philosophical about the greatest thing since sliced bread.
Must Have Balance
For Michael and The Shop staff, the key to making their sandwiches so very, very beyond ordinary is a thoughtful eye to contrast and balance across the components: sweet and spicy; crunchy and soft; even hot and cold. Consider, for example, their General Sanders, which is, as one might guess, a fried chicken sando, served on a waffle-batter bun — something that, Michael admits, is "hard to make fresh and light." They manage it by bringing in beets, carrot puree that's cooked down with ginger, and spring greens, all of which handily cuts the richness, together delivering a balanced mouthful. The same principle is in action with the Just the Tip steak sandwich: In developing it, they started with grilled tri-tip, white cheddar, and mayo on toasted ciabatta, then added a "marmalade" of onions, cooked down for eight hours. But, he says, "We were like, everything's kind of heavy and hot; it needs to be brighter." So they added crisp romaine, and, in a nod to the classic French dip, serve it with a cold wasabi crème fraîche, which smoothly tempers all that heartiness with its refreshing chill and zingy kick.
If this sounds like a lot to manage at home, Michael says you can achieve the same effect with this simple idea: Spread one slice of sourdough bread with Dijon mustard, add thinly sliced white onion, cheddar, and deli ham, and put that in the toaster oven. Spread your mayo on the other slice, add pickles, and voilà — sweet and sour, creamy and crunchy, warm and cold. Plus a little spice from that Dijon.
Some Other Tips
Don't skimp on the spread: "Nobody wants a dry sandwich; that's the worst!" Michael says. "Don't be shy about mayo or any sauce you want to use; if you're trying to be sparse with the dressing, you're going to shortchange yourself with your sandwich experience." And that is no way to celebrate National Sandwich Month.
Don't forget the seasoning: Avocados need salt, Michael warns — tomatoes, too! (And, he says, store-bought tomatoes can be just fine if they're thinly sliced and salted.)
Get toasted: "Toasting almost any sandwich kicks it up a notch — at least the bread," he says. "We put every piece of bread on the flat top to warm it up, even if it's just enough to get it on the other side of room temperature."
And don't overstuff: "You want enough of everything that you can taste it, but nobody likes a sandwich so big that you can't eat it without everything squirting out the back."
4•1•1
The Shop Café is located at 730 North Milpas Street and serves up epic sandwiches — and other stuff — Monday-Friday, 7 a.m.-3 p.m.; Saturday-Sunday, 8 a.m.-3 p.m. Call (805) 845-1696.