Visual Arts
Review: Great Friends at Mertens Fine Art
Sculptors, Friends Aris Demetrios and Robert Emmons
As summer has seemingly become the high season for fine arts exhibitions in Santa Barbara, there has been an abundance of worthy shows and interesting work. One of the most subtle and refreshing pairings took place at Mertens Fine Art on Coast Village Road earlier this month. Although the exhibition will be history by the time you read this, the artists are both Santa Barbara residents, and their work will continue to be on display at various places around town, including the great lawn in front of the Garvin Theatre on SBCC's West Campus, where Aris Demetrios has a magnificent fountain that is a permanent feature of the school's design. The Mertens show, featuring Demetrios alongside Robert Emmons, was called Great Friends and was the result of a fascinating collaboration and an unusual and compelling personal story on the part of both men.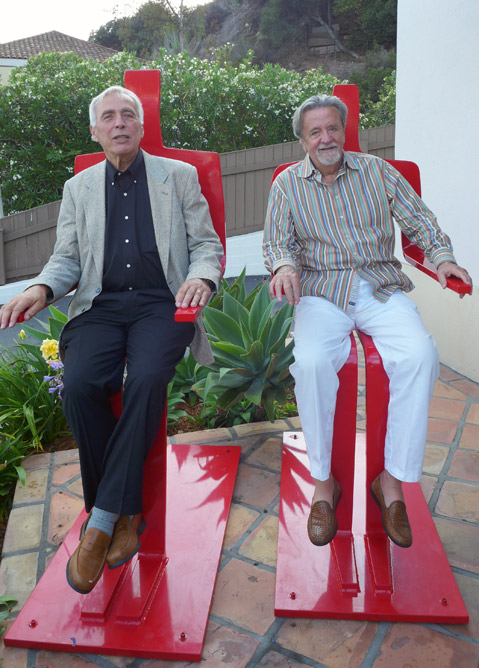 Demetrios has been winning major public commissions and creating sculpture, mostly in metal, since the 1960s. His White Memorial Fountain is a Stanford University landmark, embedded not only in the plaza but also in the lives of the students there, who routinely use it as a location for such rituals as fraternity initiations and first kisses. He combines the 20th-century modern industrial aesthetic of David Smith and Anthony Caro with a humanist sensibility that radiates California sunshine and possibility. Lately, he has adopted the medium of powder-coated steel as the final draft of choice for his work, which he develops through direct modeling, most times with a band saw and wood, although increasingly now on a digital tablet with 3-D rendering capability. The two oversized humanoid "Chairs for a Garden" that have sat together outside the gallery all summer are a perfect illustration of the high-contrast directness of Demetrios's powder-coated steel work in red. There's something Egyptian about their composition and something else that's wholly contemporary and American Riviera about their tone, which is ebullient — the joy of a child's birthday party distilled into form and color.
At first glance, the bronze sculptures of Emmons shown alongside these bright objects seem like a strong contrast. Varying in style between the elongated existentialism of Alberto Giacometti and the more conventionally proportioned impressionism of the father of all modern sculpture, Auguste Rodin, the work appears as a study in artistic development, and well it should because, amazingly enough, Emmons has only been sculpting for the last three years. As a close friend of Demetrios and a serious art collector and patron, Emmons has for a longtime harbored a fascination with the creative process. Through several books of poetry, and a growing catalogue of thoughtful, wisdom-soaked nonfiction, Emmons has expressed his mind in words, but it was not until he began to apprentice, first with Demetrios at his studio in Montecito, that his visual side was tapped. From there he made the leap. In 2012, Emmons and his wife, Christine, traveled to Florence, Italy, where he enrolled in the Florence Academy, a distinguished school of art that specializes in traditional sculpture. Thus the Great Friends exhibit told two stories, one of mutual inspiration, as alluded to in the title, and the other of personal discovery, as one can easily trace Emmons's development from the first steps under Demetrios' stutelage in 2011 in such works as "Celebration" all the way to the classical contrapposto and demurely averted gaze of his most ambitious work, "Nude, Florence" of 2012. Congratulations to both these artists on taking up the mutually reinforcing roles of mentor and apprentice, and to Alex Mertens for providing the proper context in which to enjoy such a large-hearted and generous enterprise.