Sixth graders from Washington School, Gina Shapiro, 11, and Rhea Kommerell, 10, deserve a big nod — these preteens have written, self-published, and sold several novels. Avid writers, frequent dog walkers, best friends, and fellow GATE students, Shapiro and Kommerell have been narrating stories for as long as they can remember.
"When I was two," Shapiro said, "my very first book was about a pipe cleaner who makes friends with a dolphin."
At age 8, Shapiro wrote Holly, a story about a girl who desperately wants to save a runaway dog from its original cruel owner, Ms. Sweeboss. Two years later, she wrote the 200-page novel, The Adventures of Goldie, which traces thrilling occurrences of an eager pup and a young girl. Its sequel, Wild, continues to follow Goldie on a new frightening adventure that leads her to meet new animals and takes her far away from her home.
"Now I'm writing about naiads and dryads, which are water-tree spirits," Shapiro said.
Kommerell's works, Dog Walker, written when she was 8 also, tells a story of the sabotage of a young dog walker's neighborhood business. Her most recent work, a 100-page novel, Lupin of Painted Leaves Pack, tells an enchanting story of a courageous wolf pup who greatly wants to become a warrior and spy for her pack. (Kommerell will spend the next nine months in Germany with her family, where she plans to translate some of her books into German so her cousins can read them.)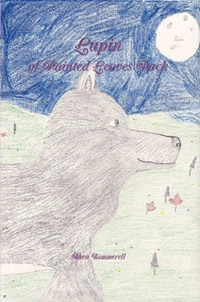 "I was just going through my old stuff," Kommerell said with a laugh, "and I found a 'joke book.' The first page was the alphabet written in code, which was just the top half of each letter."
Instead of playing video — or rather iPad — games in their free time, Shapiro and Kommerell walk neighborhood dogs and donate to Bunnies Urgently Needing Shelter (BUNS) and Dog Adoption & Welfare Group (DAWG) through bake sales — their homemade treats are for canines and humans, and are made of oats, peanut butter, apples, honey, and other edible foods — and craft sales they host through Pet and Plant Benefactors, a club they cofounded.
As 2nd graders, Shapiro and Kommerell stapled together little pieces of papers into books. The next year, they transformed their homemade projects into printed commercial novels; their books are sold on consignment at Chaucer's.
"Honestly, a lot of times, I find that even typing, I can't get my ideas down fast enough," Kommerell said. "If I can just get my ideas in my head on paper, I'd have a book done per day."
4•1•1
To view or purchase copies of their books, visit Chaucer's Books or lulu.com/spotlight/twarstar and lulu.com/spotlight/RheaKommerellSpotlight.