Surfers, travelers, and native Californians Dan Malloy, Kanoa Zimmerman, and Kellen Keene took a hiatus last November and traveled 700 miles by bicycle to experience "their own backyard," stopping along the way at farms, camp grounds, and old friends' homes for a night or two on their 50-day adventure.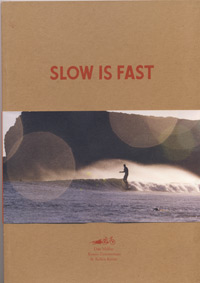 The trio got a one-way train ticket to Northern California with bikes, a surfboard, wetsuits, and cameras in hand. They slowly snaked down the state, making their way back to the Central Coast and capturing their experiences with pen and paper, snapshots, and videos. The result? Slow Is Fast, their nicely crafted book, its name inspired by the Spanish mantra poco a poco, or little by little. They also created Moving Pictures, a short film companion for their book.
Currently, they are on a book tour from Mill Valley to San Diego, where they chat with fans about the trip, screen their film, and sell their book. To find out when their next event is and follow them online, visit slow-is-fast.com.