Arts & Entertainment
Trash Can Days
Debut Novel Depicts Santa Barbara Through the Lives of Middle Schoolers
The vast majority of us are just as happy to let what dim memories we may have of 7th grade go slip-sliding away sometime around high school, but that doesn't mean we should. Trash Can Days, the new novel by 2011 Stanford grad and Santa Barbara public school alum Teddy Steinkellner, makes a good case for looking back on the hormone-saturated free-for-all that is middle school with wised-up curiosity and genuine affection.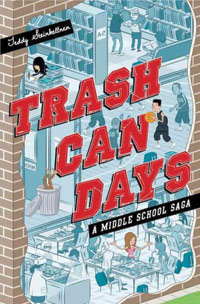 Set in a city that bears more than a passing resemblance to Santa Barbara, Trash Can Days is told from multiple perspectives and uses an unusually broad range of voices. There's plenty of traditional first-person narration from the quartet who form the book's core — privileged 7th- and 8th-grade siblings Jake and Hannah Schwartz, 7th-grade jock Danny Uribe, and the writing- and fantasy-obsessed Dorothy Wu — but there are also passages rendered through tweets, Facebook status updates, instant messages, emails, official school announcements, and even some good old-fashioned hand-written notes.
None of this would matter were it not for Steinkellner's powerful one-two punch of precisely calibrated diction and sturdy, suspenseful adult-grade plotting. The drama that unfolds over the course of Jake Schwartz's 7th-grade year will be familiar to many, as it refers to some of the most striking public events involving middle schoolers in our city over the last decade.
It would be a pity if the provincial self-appointed censors who get off on "protecting" young teenagers from the truth suppress this wonderful story, as it has much to teach about the way gangs have infiltrated our culture down through the middle-school years, and about what the ups and downs of early romantic experiences can teach those willing to learn from them.
4•1•1
Trash Can Days by Teddy Steinkellner (Disney-Hyperion) is available at area bookstores.