Starshine
Trashing Junior High
Middle School Meltdown Put on the Page
When my son entered junior high, his class read the Strange Case of Dr. Jekyll and Mr. Hyde. I thought it a peculiar choice for 12-year-olds — dense, antiquated prose, and a macabre plot. But his teacher chuckled when I asked about it.
If I didn't see the relevance of having 7th graders read a book about a conflicted, two-faced beast with serious impulse-control issues, then it had obviously been a long time since I'd walked the halls of a junior high.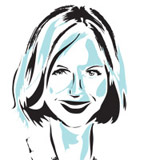 I haven't forgotten, though. In some ways, I think we never really leave junior high; some uncomfortable part of us is cursed to forever remain in that unholy purgatory between the safety of childhood and the autonomy of adulthood, that pimply, fussy No Man's Valley between carefree and confident.
"There will always be things that warp us back," says my friend Teddy Steinkellner, 23. "I was dumped in a trash can in 7th grade by a bunch of guys in my PE class. It wasn't personal; I think they just wanted to pick the shrimpiest guy in class and do something for their own pleasure. I didn't tell my parents about that."
Instead, he wrote a book about it. Trash Can Days: A Middle School Saga, published last week by Disney-Hyperion, is a young-adult novel loosely based on Teddy's own years at Santa Barbara Junior High.
"I was a bit like my character Jake in the book," he says: "Sheltered, introverted, awkward, and certainly prepubescent."
Through traditional narration, homeroom announcements, Facebook posts, and text messages, the book traces the intersecting lives of Jake; his much-cooler, less-privileged best friend; Jake's popular older sister; and the extreme-nerd girl who pines for Jake. The story shies away from no middle-school misery: developmental differences, hurtful gossip, emerging sexuality, issues of class — even gang pressures.
"I wrote a book about junior high because I don't have perspective on any other part of life yet," he jokes. He wrote it over three summers while studying at Stanford. "It feels like this hugely serious and dramatic and yet also goofy and hilarious part of people's lives that we kind of put away in a box — and I wanted to force people to look at it again."
Since Teddy willingly (read: masochistically) dove back into a moment that the rest of us would just as soon forget, I asked if he had helpful insight for kids who are entering junior high this month, and the parents of those kids. He said he learned some liberating things by putting himself in the shoes of the disparate characters in his book.
"Nobody thinks junior high was hard for the bullies and the popular kids," he says — "but they're wrong. Junior high is a crucible for everyone. It's a harrowing experience for all involved: everyone's different heights and weights, everyone arbitrarily starts hating their parents all of a sudden. It's a sadistic social experiment to take people at their most vulnerable, irritable, and frankly weird years and just put those people together."
Here — according to Teddy — is how you survive:
1. "My number one piece of advice for kids is unquestionably to not bring a rolling backpack to school, because people will just kick it."
2. "Be yourself, not for all the cheesy reasons that you should be yourself, but because if you try to be somebody else, you will fail. Try to accept who you are and wait it out — because you have no choice at that point in time."
3. "Try to convince yourself that you're cool every day even if you're positive that you're not — and you probably aren't."
If those fail, hang tough. You can always grow up and write a book about it.