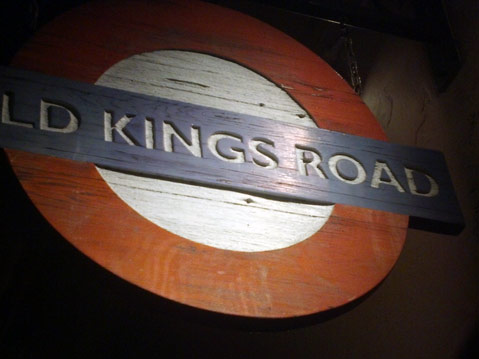 Name of Bar: Old King's Road
Address: 532 State Street
Location: State and Cota, deep in Downtown
Days/Hours: 12 PM – 2AM every day, and they never close early
Happy Hour: 4 – 7 every day, $1 off well drinks and draft beers
Known For: its incredible beer selection, including 17 beers on tap and 19 bottled
Notable Decor: a sign on the door warning "No Wankers"
Patrons: regulars of all ages who appreciate excellent service and a familiar atmosphere, particularly those in their late 20s and 30s who are in the Industry
Special Draw: Wednesday night pub quiz from 7-9:30! Food is delivered to 25 teams who make this the rowdiest place on State Street for a few hours every week.
Quote from the Bartender: "That's what makes a bar – when they walk in and you know what they want and you can get it for them."
Music: a juke box with a great selection of '80s punk. The bartenders thankfully have access to the skip button in case of emergency.
Discovery of the Night: the (seemingly) enclosed pool room out back is also a smoking patio
Special Find: a 39-year-old Scotch. Dear Lord.
My experience: The most important experiences in life are always those that force you to scrap everything and go back to the drawing board. Last night at 2:17 in the morning I found myself drunkenly Wikipedia-ing "pub".
Now, I've been to my fair share of pubs. While studying abroad in England I went everywhere from the Bird and Baby to the Lamb and Flag to the King's Arms to the Three Goats Heads. Boy, do they know how to name them. But America doesn't tend to pull off pubs all that well, so I've tended to gravitate towards the lounges and dives of this fair city. But when I went to Old King's Road, I was reminded of why I love pubs.
First off, "pub" is short for public house. Put differently, they are the public's house, the gathering place and focal point of the community. A pub is a place where you saddle up to the bar and take a long time to finish your drink. You come first to exchange simple pleasantries with the regulars, then leave having solved all the world's problems. You listen to good music, play a leisurely game of pool or darts, tip your bartender well, and stumble on home with a smile on your face. You come because they let your Guinness sit before it's served.
Pubs serve beer. Good beer, and lots of different kinds. Beers are for relaxing, for slowing down, suited to intimate conversations and dark-stained wood. Cocktails are for getting drunk expeditiously, and they can make you mean. Beers are for smiles and belly laughs. That said, Patrick knows how to mix a drink. Tell him you want a drink that's just a bit fruity, and he'll whip you up something special that'll have you spinning in no time.
On Thursday night I showed my ID to the large but kind man at the door. Eyes drifting to the "No Wankers" sign, I smiled. Inside, a long bar stretched back and met a space for booths and tables. Four flatscreens showing the U.S. Open and some (American) football game were set just above the rows of whisky and gin, and above those, a series of chalkboards neatly displaying their drink and beer specials. An Icelandic white ale and porter called Einstock? Intriguing.
The walls were decorated with the standard British artifacts. Sport photographs, a bayonet, old beer ads and British witticisms. A few portraits of the Beatles, rendered psychedelic, gave it a kick, but a picture of the Queen brought it back down. I was told that when Depeche Mode is in town, they come here.
I looked around at my fellow patrons. Towards the front, clusters of drunk young beauties sprawled on stools. They wouldn't stay long. A trio of 20-something men – caught somewhere between Del Playa and the golf course – and their female companions ordered up a round of Irish car bombs. I drew in a sip of Guinness, and the creamy head set me right. I went to sit farther back into the bar and struck up a conversation with an older patron. Was he a regular? He wasn't sure, but he told me that when he comes out, this is the place he goes. No need to go anywhere else. "Patrick knows what I like. Even on a Saturday night, when this place is packed with the Lower State crowd, he sees me come in and my drink is ready before I sit down. That's why I come here." Patrons here know the Industry, they know how to treat the talented staff right, and they're rewarded for their loyalty. There's a divide, he tells me, between the front bar and the back bar, and the deeper you go, the closer you get. We go out to the pool room, also a smoking patio, and play some pool with new friends.
Old King's Road made me reflect for a moment, made me reconsider why we go to bars. Sometimes we're looking for adventure, a bit of danger and a new experience. Sometimes we go out seeking that big grand rhinestone-studded night full of flashing lights and smoke. Low-lit but honest, Old King's Road won't give you that. But they will give you something those other places can't: a place to share a pint.