Arts & Entertainment
Review: Jason Mraz at the Santa Barbara Bowl
Things Get Emotional at Labor Day Benefit Concert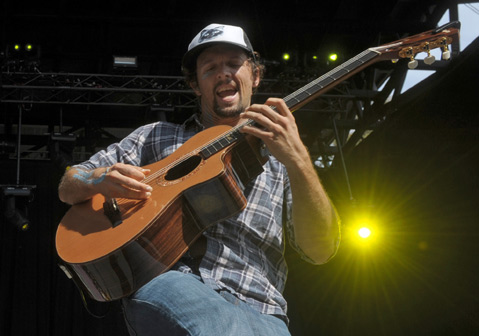 The Santa Barbara Bowl welcomed Jason Mraz on a scorching Labor Day for an early show as part of his Tour Is a Four Letter Word outing. The late afternoon set list paired well with the long weekend, as well as the night's do-good message.
Nonprofit Life Rolls On (LRO) was the beneficiary of Monday's concert supporting spinal-cord-injury research and quality-of-life support. Founder Jesse Billauer and Mraz worked closely together and put the show on to honor the 17th anniversary of Billauer's surfing accident, which happened when he was 17 years old.
Mraz's band proved to be a solid pop/jazz ensemble that included a saxophonist, a trumpet player, and a bassist, all of whom contributed notable solos throughout the show. Mraz also reworked some numbers, including inserting quick vibrato phrases into "Only Human" and "Live High." Later, "The Remedy (I Won't Worry)" got mashed up with Harry Belafonte's "Day-O" song, successfully injecting the show with a necessary dose of reggae. The laid-back vibes carried over to "You and I Both," which Mraz used as a bridge to his cover of Bob Marley's "Everything's Gonna Be Alright."
A variety of guests were welcomed up to the mike, too, including drummer Michael "Leroy" Bram, percussionist Toca Rivera, and budding singer Cody Lovaas. Together, the crew sang "Rescue," which Mraz dedicated to all of the volunteers of LRO.
Things got surprisingly emotional when Billauer came out to express his gratitude and appreciation for the audience's support. "Being able to change people's lives one event at a time, to me, is priceless," Billauer said before Mraz returned to encore with the fittingly touching "Song for a Friend."