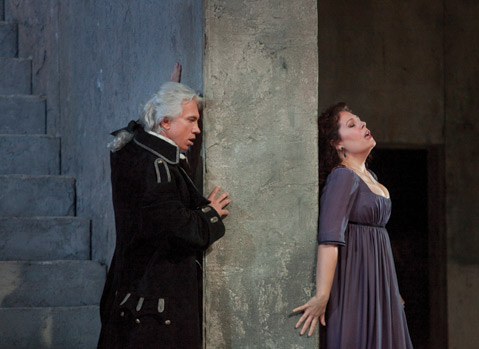 There's something incredibly luxurious about stepping out of the hot sun and into the Music Academy's Hahn Hall for one of the Metropolitan Opera's HD programs, and this week you will have three chances to do so in a row. On Saturday, September 7, at 2 p.m., the opera will be David McVicar's April 2011 production of Giuseppe Verdi's Il Trovatore, and, in addition to four world-class singers in the leading roles, it's got everything one could ask for in an opera — mysterious gypsy women, infants switched at birth, kidnapping, self-poisoning, hidden identities, and of course some of the repertoire's most memorable music.
On Sunday, September 8, prepare to do it again with the greatest operatic gypsy woman ever, George Bizet's Carmen. Elina Garanca and Roberto Alagna star in the Met's production, which was praised as "gripping and brilliant" when it premiered in 2010.
Finally, for those lucky enough to have Monday afternoon, September 9, free, a most decadent treat awaits—Puccini's Turandot, in Franco Zeffirelli's extravagant 2009 production and featuring Maria Guleghina as Turandot, Marina Poplavskaya as Liu, Marcello Giordani as Calaf, and Samuel Ramey as Timur. There's no aria in all of music more thrilling than the legendary tenor solo "Nessun dorma," and you haven't really heard it until you've experienced it as part of the flow of the complete work.
This mini-festival of greatest hits hints at the greatness to come in the 2013-14 season of the Met Live in HD, which resumes at the Music Academy's Hahn Hall on Saturday, October 5, at 9:55 a.m. with Tchaikovsky's Eugene Onegin. Tickets for this week's "Best of the Met" screenings, as well as subscriptions for the 2013-14 "Live in HD" season, are available now at musicacademy.org or by calling 969-8787.