Food & Drink
Night with the Museum Chef
Brenda Simon Wows with a Three-Course Home Meal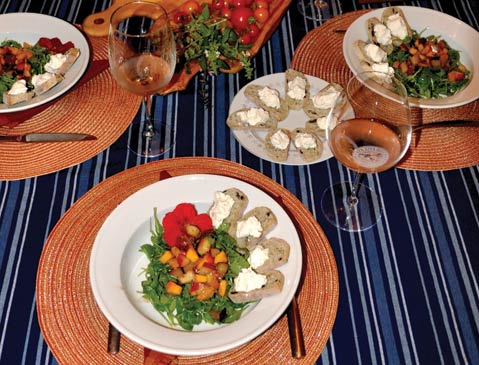 Our irregular feature "Make Me Dinner!" is back, with another story of a pro doing the cooking in the humble home kitchens of regular folks, while keeping costs low, technique not too tricky, and end results tasty. And there will be wine — this is Santa Barbara, after all.
The Chef
This time, we're fed by chef Brenda Simon, who does world cuisine on demand as a caterer under the name The Secret Ingredient (805-637-9523, and is also the executive chef at the Foodie-Award winning Santa Barbara Museum of Art Café (1130 State Street, one of town's secret lunch treasures. She's also cooked for the likes of John Cleese and Michael Jackson. "Try to read a recipe and understand its chemistry and process," Simon says of learning to cook. "Try to create rather than follow tedious instructions (unless it's pastry making). Rely on the senses to balance taste, visual appeal, and cooking times. That's difficult to master, but over time, it's what got me where I am today."
The Challenge
We told Simon she'd be cooking for six, gave her a small budget ($50), asked for three courses, and made it clear she had to come up with a menu non-chefs like us could pull off, too.
The Booze
We were honored to have partner/winemaker Aaron Walker from Pali Wine Co. and Tower 15 Winery (tasting room at 116 East Yanonali St.) join us and play sommelier. "The light body, bright acidity, and floral notes in our 2011 'Sunset' Rosé from Tower 15 Winery paired beautifully with the salad," he points out. "The peppery notes from the arugula played very nicely with the earthy notes in the rosé. The wine and salad together epitomized summer for me." He could have said "for us," but he's not presumptuous.
About the main course he says, "The chef prepared the halibut so beautifully and delicately, I didn't want to overpower the dish with a heavy wine. Initially I choose a medium-bodied pinot noir (our 2011 'Huntington' Santa Barbara County) that I thought would work well with the accompanying quinoa dish and broccolini — and it did match very well. Of course, white wine is the traditional pairing with fish, especially a mild-flavored, delicate fish like halibut. So, I also brought our newly released 2011 Durell Vineyard Chardonnay. That paired great too! It's not a super-oaky or overly buttery chardonnay, but it does have some of those characteristics — balanced with bright acidity."
Dessert is always tricky, but Walker had a trick up his sleeve — the 2008 "Central" Late Harvest Chardonnay, Sierra Madre Vineyard. "There's a reason why you don't see late harvest chardonnay," he admitted at dinner, "because the grape already ripens late. But sweet wine with sweet berries and coconut ice cream — SOOOOO good!"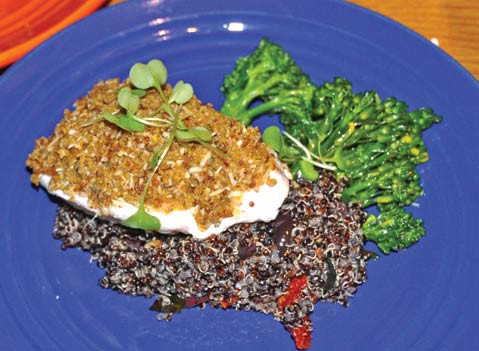 The Menu
This was a high summer menu — tomatoes, peaches, and nectarines starred in the salad, every berry imaginable in the dessert. It might take a few stops to purchase everything, but nothing was very exotic — beyond making the ice cream with no cream at all, just coconut milk.
• Stonefruit bruschetta and arugula salad, goat cheese crostini
• Local wild Santa Barbara halibut baked with a whole grain mustard, pine nut, and Grana Padano crust, alongside an olive and sundried tomato quinoa pilaf and broccolini
• Summer fruit crisp with an oatmeal/nut brown sugar topping and vanilla bean coconut ice cream
The Amateurs
We learned many things, and I might have learned more if I could ever figure out how to help make dinner, listen, and take pithy journalistic notes at the same time.
• We discover there's something called vanilla bean paste that's easier than dealing with gutting the narrow vanilla bean yet tastier — and complete with the flecks the liquid lacks — than vanilla extract.
• We learn something so simple, it's amazing the tip is not everywhere: When boiling greens like broccolini, don't put a lid on the pot, because if you do, you'll kill the chlorophyll. The bright green you end up with is well worth it. Just leave it in the water and turn the heat off at the preferred color.
• We also admired Simon's pre-toasted pine nuts, each evenly browned. "Don't be afraid to cook them for a while in the oven," she says, "but change shelves, turn the pan around, figure out where the hot spots are in your oven. Even my convection oven has a hot spot."
The Pro
"Usually I just cook by the smell of things," Simon says early in the prep process. Fueled by a can of double espresso, she worked quickly yet unhurriedly, offering advice that was instant common sense like "get the thing that takes the longest going first" and "this is a baking meal, so things can be in the oven and you don't have to be sautéing, you can be with your guests." She did come with the ice cream — a non-dairy version based on coconut milk that was John Cleese's favorite — ready to go into the churn, but otherwise much of the meal got done in a quick hour or so. (Cocktails make that time go faster.)
Of the meal, she said, "I thought the fish was just fantastic, and the cooking method worked well for that type of fish." And she was right.
Here's how to do it:
The Recipe
Baked Local Wild Halibut with Whole Grain Mustard, Parmesan, and Pine Nut Crust
(serves 6)
2 lbs. wild halibut (have the fishmonger portion the fish into six filets)
1-1/2 cups multigrain breadcrumbs (or any other gluten free or grain product)
1/2 cup grated Pecorino Romano cheese
1/2 cup whole grain Dijon mustard
1/4 cup toasted pine nuts (on the dark side but not burned)
2 tablespoons Extra Virgin Olive Oil
kosher salt / cracked black pepper
Place filets on a baking sheet. Season with salt and pepper. Place the breadcrumbs, cheese, mustard, and pine nuts into a food processor, and while it is processing, drizzle in the olive oil. Scrape down the sides for even processing — the texture should be that of a sort of moldable paste. Adjust with more olive oil if necessary.
Evenly pat the crust mixture on top of each fish filet and bake for 8-10 minutes at 325 degrees.
Black Quinoa with Sun-Dried Tomatoes and Kalamata Olives
2 cups black quinoa
2 tablespoons chopped garlic
one sprig fresh rosemary
kosher salt and cracked pepper
1 cup sun-dried tomatoes in oil, julienne cut
2/3 cup quartered Kalamata olives
1/2 cup chopped fresh basil
Extra virgin olive oil
2 bunches broccolini, boiled
Cover the quinoa with water or flavored stock of choice. Bring to a boil and then simmer about 20 minutes until the quinoa begins to fluff apart. Remove from heat and cover the saucepot with a lid to steam the quinoa a bit. Stir in the olive oil, tomatoes, olives, basil, and salt and pepper to taste. Serve with the halibut and broccolini.